SHOW REVIEW: Hungry Lucy/Thoushaltnot
June 17, 2003 - DV8 (Portland, Oregon)
By: Sonya Brown & Jett Black



Thanks to Derekat Damned Productions, the Hungry Lucy/ThouShaltNot summer tour stopped in Portland on Tuesday, June 17, 2003 at Club DV8.

Touring in support of their latest release, Glo, Hungry Lucy invited ThouShaltNot to join and support the performances across the USA.
The first band on-stage this evening is ThouShaltNot?, who has new music available at mp3.com from their next album (due out later this summer) entitled The White Beyond. Alexx Reed of ThouShaltNot was so kind as to burn us a 5-track demo before departing from DV8 on this evening. The White Beyond will delight TSN fans with a much more focused and dynamic sound. TSN has moved about and recently landed a new home at Dancing Ferret Discs. Alexx has also begun work on his solo dark folk album.
New songs ThouShaltNot performed from The White Beyond at this stop on the summer tour include "Glacier", "Inside of You, Inspite of You", "The Ocean is Your Voice" and "Cardinal Directions". Plus, dug up by special request for Derek Moore of Damned Productions, ThouShaltNot croons "If I Only Were a Goth!", which appears on the latest TSN release entitled: "You'll Wake Up Yesterday", a limited edition EP featuring exclusive remixes, new tracks, and requested rarities. "If I Only Were a Goth" is sung by TSN to the remotely similar tune from The Wizard of OZ known as "If I Only Had A Brain!" This little tune had the DV8 crowd in stitches, laughing along with the band!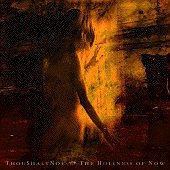 "Without Faith" and "The Sting", both of which appear on both "You'll Wake Up Yesterday" (March 2002) and "The Holiness of Now" (May 2001) were also performed this evening. Each of ThouShaltNot's last three albums were released by NW local music label ADSR, which is based in Seattle with an associated music store called MusicWerks, also in Seattle. ThouShaltNot also performed "Puzzled Direction" a new single from The White Beyond expected to find release in Sept 2003.
Ending with "Trial by Fire", ThouShaltNot pays homage both to Hungry Lucy, and to Derek of Damned Productions, Marty V, the attending fans, and everyone behind the bar of CLUB DV8 for making the entire evening possible.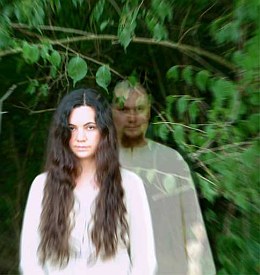 Next on stage are the beautiful vocals of Hungry Lucy provided for by Christa Belle, charming the slackers out of their seats and up to the edge of the stage to dance, drool, and fall into the trancelike dream spun in the wake of enchanted vox and genuinely inspired soundscapes.
Marty V. (formerly of Satyricon) provides audio excellence throughout the evening as Hungry Lucy sets Club DV8 ablaze, with deliriously seductive vocals and lyrical intrigue as only Christa Belle can ignite.
Hungry Lucy performs several tracks from their sophomoric release, Glo, including, "Fearful", inciting a deep introspective passion that yearns for interpersonal recognition. "Into Pieces" is an absolute masterpiece! Post-partum depression, perhaps romantic in nature, finds inner strength to continue, while "Could It Be?" brings forth delightful Trip Hop sinking into a reverie foreshadowing the sweetness of suffering. Also performed this evening are "Her Song", soft and delicate, like a gentle folk tune reflecting back in a style of modern dance; and "Storm", one of my many favourites (reminding me of "Only Happy When It Rains" by GARBAGE) which opens with these words, "Don't you bring me no sunshine today. I need the grey skies, and the rain. You never understand my pain. I need the wind to blow you away." The next song, "In The Circle", generates hope and a sense of well-being, as even in the name, this song carries forward optimistic principles and concepts often expressed within wiccan culture. Every word and intonation that spills forth from the lips of Christa Belle intimates warmth and affection. "Rebirth", like the subtle beginnings of life itself, slowly breathes with a shallow heartbeat, progressing steadily (Like ENIGMA) into a greater sense of natural complexity, maintaining the integrity of the groove; and "Stay" feels timid, remorseful, grieving in the wake of personal loss, marked further by the child-like perspective and yet emotionally mature introspection upon aspects of guilt and passionate longing to yet live more full now.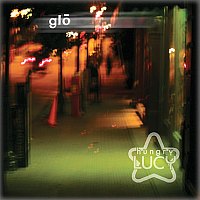 Hungry Lucy also performs this evening the following: "Bed of Flames", "Bound In Blood", "Blue Dress", and "Alfred".
Hungry Lucy concludes the concert with the pure genius of War-N Harrison in presentation of trip hop audio-electronic manipulation mixing both with a background of delightful and imaginative visuals and a foreground of heavenly vocals and deeply personal lyrical constructions by Christa Belle.
Driving up all the way from California for this performance is Shawn Brice of Bloodwire. Shawn and War-N Harrison have ties in music dating back to before War-N relocated from California to Fairfield, OH. War-N and Shawn each spoke privately off stage about Thorn Apple, which up until now has only been available privately to close family and friends. The Thorn Apple project (This Mortal Coil type project) collaborates talents between many bands including Axoe, bloodWIRE, Halou, Hungry Lucy, Slave Unit, and others.
Hungry Lucy has also generously chosen to display at their website, a new feature with information regarding Intergratoin, a new music release from DIA, a project put together between Shawn Brice and Maria Azevedo of Battery, which happens to be (have been) one of my all time favourite dance floor music artists. Battery's cover of "Gansta's Paradise" is essential for any DJ collection!
All-in-all a very entertaining, and informative evening!