Post Stardom Depression
Ordinary Miracles (The Control Group)
By: Alex Steininger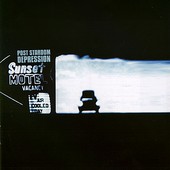 Following the all-too-typical major label story, Post Stardom Depression is back with their debut full-length, Ordinary Miracles. You know the story, the one where band gets signed, records record, record sits on the shelves while band loses major label deal, only to fight for a few years to get the rights to their record back before putting it out on an indie label.

Worth the wait, the hard rockin', blues-influenced, post-punk explosion of Post Stardom Depression's Ordinary Miracles quickly destroys any doubt that the band did the right thing by sticking it out and continuing down the road, despite the headaches and red tape.

From the opening of "Monster", where lead singer Jeff Angell proclaims, "sometimes I just wanna fuck", you know you're in for a good time, partying, hard rock record that will fulfill even the most jaded of rockers.

Soaked with metal influences, the slow burning, heavy rocker finds you sinking in quicksand, as you relax and stop fighting it, realizing that is exactly where you want to be.

"The Whore I Am" keeps you rocking, the buzzing guitars, loud rhythm section, and deep, dark vocals of Angell the perfect combination to keep things tight, energetic, and ultimately fun.

The appropriately titled "Boom Boom Boom" gets a bit psychedelic, the atmospheric, heavy rocker moving so slowly as it wanders around your mind, you don't know whether to embrace it or be afraid of it, but you through caution to the wind and do both.

Quickly succeeding "Boom Boom Boom", "Mama's Boys" dishes up a song that wouldn't be out of place on an album of Pearl Jam and the Jon Spencer Blues Explosion collaborating together.

If you're in the mood for dark, moody blues equipped with more rock than blues, and plenty of metal influences too, than Post Stardom Depression's hard rock sound is what you'll want. It's a mind melting, brain freeze experience that puts many others to shame. I'll give it an A-.