INTERVIEW: Jackson
Foo Fighters' Guitarist Chris Shiflett Talks About His Band, Jackson (Jackson's Web Site)
By: Alex Steininger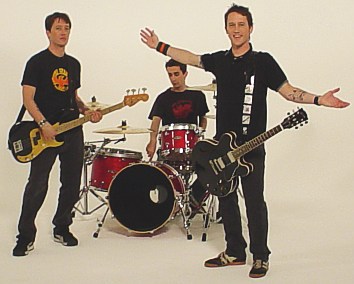 "I've never done this before," says singer/songwriter/guitarist Chris Shiflett. "I've never been the singer of a band. I've never been in a band that did all my songs. I've always been contributing to someone else's vision".

Shiflett may be best known as the guitarist for multi-platinum selling rock outfit the Foo Fighters, and, to some, as the guitarist for pop-punk cover band Me First and the Gimme Gimmes. But, Shiflett also fronts his own outfit, the Southern California power-trio Jackson, who's debut, self-titled EP was recently released on the band's on Magnificent Records.

"I think every band should release their own record at some point," Shiflett tells me, discussing his reasoning behind starting up his own label for the debut Jackson release, "because it makes you appreciate what an enormous amount of work it is. Plus, it opens your eyes to certain realities about the music business. Namely, what it costs to produce a CD versus retail price."

"I wanted to put it out myself because I didn't want anyone else to want to put their opinion into it," Shiflett continues. "I figured I was lucky that I'm in a band where I can put it out myself and get it out there. I mean, I can't go on tour now anyway, so I couldn't put it out on a major label, because they wouldn't want to do it. I can't go promote it, and that's the big thing. I figured it would be better to do it this way, and if people like it, 'great', and if they don't, well, who cares. It seemed the best way to get the music out there. I could work on it on my spare time and I wouldn't owe anyone anything."

With the assistance of his brother, Scott Shiflett, bassist for Vagrant Records' punk outfit Face to Face, and Saves the Day and Face to Face drummer Pete Padara, Chris Shiflett went into the studio in the summer of 2002 and ended up tracking twenty-one Jackson songs.

"When we took a break from recording the new Foo Fighters record, I got it in my mind I needed to go do another thing," Shiflett informs me on the origins of Jackson. "I had some songs I'd been working on, and had been trying to get a side thing going for awhile. I finally just made myself finish it.

"Some of the songs... bits of them are old as hell. We actually recorded for a couple of weeks, and got the basic tracks for twenty-one songs, and then I got busy with the Foo Fighters again." Re-entering the studio with the Foo Fighters to finish their forth full-length, One by One (RCA), the Foo Fighters soon thereafter began touring in support of the album's release. Shiflett left behind his unfinished songs to tinker with while on the road.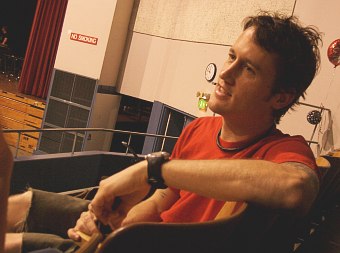 "I've been finishing the songs in bits and pieces," Shiflett informs me. "I have my little M-Box set-up and I sit here on off days and finish working out some overdubs."
The EP was recorded at a variety of places, including drums and bass at Sunset Studios, guitars and keyboards in West Beach, and all the vocals at a friend's home studio.
The EP is comprised of five tracks from the sessions that spawned twenty-one tracks. Shiflett decided to go with the five he chose - "All the Way", "Blinders", "Here Comes Hollow", "Fell Into", and "Far From Here" - because they were more rocking than the other tracks he was working on.
"It seems that most people would be receptive to [the more rocking songs]," he says. "Honestly, though, most of the stuff isn't that rocking. There is other stuff that is a lot more vibe-y and sounds different. It will be interesting to see what people think about it."
Shiflett hopes to follow-up the EP, which has been enthusiastically received by Foo Fighters fans (something Shiflett was worried about), with a full-length in early 2004.
"I'm probably going to put out a full-length at the beginning of next year, put two or three songs from the EP on it, and put some other songs on it," he divulges.
"And," he says before pausing, "I was doing the math on this the other day... then there will still be enough songs to put out another EP with some of the unreleased stuff."
Where the full-length will end up is anyone's guess, as Shiflett has yet to receive an offer from a label.
"Nobody has made me a record deal offer or anything. So I don't know if the full-length will be on a major label or an indie label or what. I'm not morally opposed to it being on a major label, but I just want to find the right place for it, whatever that is."
Shiflett feels the right home will be the place that helps him promote and push the record, while allowing him to retain artistic control and ownership of the masters through a licensing arrangement.
"The most ideal situation is to have a set-up like what the Foo Fighters have. Which is, Dave [Grohl, leader of the Foo Fighters] basically licenses the records to another label, and gets those rights back after a certain amount of time. Which is what happened with the first two records (Foo Fighters and The Colour and the Shape). They came out on Capitol and they just got the rights to them back and so they're going to re-release them on RCA. By licensing them like that you retain artistic control over them."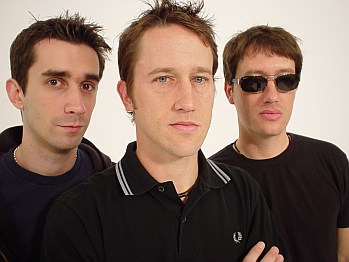 "That would be ideal," Shiflett says as we discuss record contracts further. "I'm not going to lie to you, I like doing this for a living. And I want to keep making records, so I would like to have the ability to get the record all over the place. I want to go promote it and I want to tour. I want to do all that stuff."
Due to his Foo Fighters commitment, and the forthcoming release of the new Me First and the Gimme Gimmes record, Take A Break (Fat Wreck Chords), Shiflett isn't immediately available to tour. Matter of fact, Jackson has only done one show so far. But, they are taking their show on the road this summer, piggy-backing the Face to Face and Me First and the Gimme Gimmes dates on Warped Tour, playing early in the day on the Ernie Ball stage.
Following those dates, which cover the East Coast and some of the Midwest, Shiflett plans to finish up the Jackson full-length and do more Jackson touring next year. Beyond that, Shiflett is eagerly anticipating the next Jackson recording session.
"Making this record, I feel like I've made so many fucking mistakes and learned so much from it. I can't wait to go make the next record. I've already got a bunch of song ideas for the next one."