Har Mar Superstar
You Can Feel Me (Warner Bros. Records)
By: Alex Steininger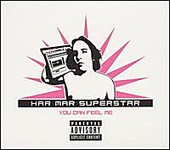 Sean Tillman (aka Har Mar Superstar) has a few different personalities. He was originally known as the Minnesota-based indie rocker Sean Na Na. Putting that project on hold, he released his other alter ego, Har Mar Superstar's self-titled debut on Kill Rock Stars in 2000. Following the self-titled debut, You Can Feel Me finds Har Mar Superstar calling Warner Bros. Records home.

Tillman has also penned songs for Jennifer Lopez and Kelly Osbourne, the latter of which was his date for the 2002 MTV Music Awards. Coupled with those credentials, and backed by You Can Feel Me, Har Mar Superstar has started to turn heads while people begin to take the project seriously.

And why shouldn't they take it seriously? After all, Tillman's live performance for Har Mar Superstar entails crooning sex-laden R&B numbers, while break dancing, to a small boom box as he strips down to his ultra tight-y, white-y underwear.

Confused yet?

Tillman is a balding, out-of-shape white man with a pencil-thin moustache who just happens to possess a sexy, silky smooth R&B voice, backing up his voice with sexually laden lyrics, and bass-heavy, groove-soaked dance beats. He's the modern day Casanova, trapped in someone else's body.

He's got skills, soul, and charisma, and the rest just falls in place. You Can Feel Me is one of the best hip-hop/R&B albums to come out this year, if not the past decade. Har Mar Superstar's cheeky, cheesy humor doesn't even pretend to take itself seriously, engaging you, the listener, in a lot of rubbing, groping, grinding, and raunchy sex as you and the music make love each other as Har Mar looks on and ensures the party is never ending.

If ever there was a record that made you horny, or the perfect hip-hop make-out record, it is Har Mar Superstar's You Can Feel Me, a record that will ensure you get laid, just as it has undoubtedly worked for Tillman himself. I'll give this an A-.