Blur
Think Tank (Parlophone/EMI)
By: Cam Lindsay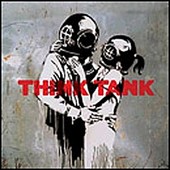 After parting ways with Graham Coxon, probably the smartest and most inventive modern day guitarist, Blur had a major decision to make, whether to keep this band going. Damon Albarn took over the reins (something you know he's wanted to do for years) and made the album he's always wanted to make. Now the main guitarist in the band, as well as the lyricist, you wonder at times if Think Tank is not just a solo album with Alex James and Dave Roundtree acting as his bassist and drummer.

The first noticeable difference is in the whole mood of the record. Compared to any of the previous records, Think Tank is the product of men who have matured into artists with children, wives and exotic record collections. "Ambulance" creeps into David Bowie's Berlin period, resembling something of "Low". "Out Of Time" is their most distinguished piece of music so far, incorporating instruments Albarn must have learned to play hanging out with people in Cuba and Morocco. Surprisingly though, Albarn hasn't gone overboard, limiting that one song to his love for world music. Instead, he explores his Gorillaz side as well, most obviously in the hiring of Norman "Fatboy Slim" Cook to produce two songs: the off-the-wall ball of energy that is "Crazy Beat" and the more experimental "Gene By Gene", which may take many people by surprise.

Everything else on Think Tank is either wonderfully fresh or Albarn indulging in the freedom. "We've Got A File On You" is the typical Blur punk number, yet without Coxon at the helm creating the riffs, it's as flat as the prairies. "Brothers And Sisters" remains to be the weakest track on the album, with Albarn reaching a lyrical lowpoint in his career, singing about drugs to a backing track that contains more funk than Blur know what to do with. Thankfully, there are some moments of brilliance to counterbalance the disappointment. "On The Way To The Club" is a slow burning down tempo track with a new sound that is inviting and not so alien to Blur's style. "Good Song" and "Sweet Song" are ballads at each end of the spectrum; the former having a charmingly coy ring to it while the latter boasts more of a truthful and beautiful ambience.

The one track that hardcore Blur fans will rush to hear is "Battery In Your Leg", the one and only track featuring Coxon. The final track on the album isn't what you'd imagine to be possibly the last song ever featuring the guitarist, but it's the stand out moment on Think Tank. Sad and filled with a lot of despair, not only in Albarn's lyrics and vocals, but in Coxon's guitarwork. Using some crazy tunings, he has made his guitar weep and walk off into the sunset by the end of it. A fitting farewell, it makes you crave more.

The rumor that Albarn has saved the more pop-based songs for the next Gorillaz album shows that, disappointingly, Blur isn't up there at the top of his priorities. You have to wonder what this album would have been like if A) he would have added those songs and B) if Coxon hadn't left, what type of energetic boost he would have added to it. Without ever knowing, Think Tank remains to be the least fulfilling Blur album to date. B-.