Hittin' The Note (May 2003)
By: Chica Lishis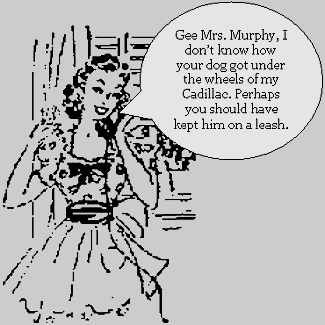 Well, well, well. I don't have show info for y'all this month as I have been terribly busy expressing my other "creative" side. That's right, I've been HACTING! Yes, I've been hacting up a storm this month. For those of you who don't know, "hacting" is akin to "acting," the difference being that you do it very, very badly. I was a brilliant hactor. I forgot lines, forgot entrances, forgot cues, couldn't remember where I was suppose to be when, picked up other hactors props and put them in the wrong places, and caused a general ruckus on stage each night, worthy of the worst theatrical interpretation EVER. I'm sure they shall be asking me back to grace the boards again quite soon. (Translation: never.)

Since I got nothing on the nightlife front, I thought I'd give you, my darling reader(s?) the inside scoop on some of your favorite personalities here at In Music We Trust World Headquarters. Sound enticing? Well, in all honesty, I am the most interesting one on the payroll, but I'll see if I can't embellish a fact or two to make my co-workers in this musical underworld a little more entertaining.

I can't count the many times I've opened my fan mail, only to find variations on the same question: "Is Alex Steininger as adorable as his writing portrays him?" And to this I say, "Yes! You crazy gay men looking for love with an indie-music tycoon!" But sadly for you, he loves the ladies; the ladies restroom, the Ladies' Home Journal, ladies-in-waiting, ladies of the evening, even the cleaning lady, who brandishes her mop against his advances on a nightly basis. He's also quite wild about raspberry flavored Twizzlers® (FREAK - everybody knows that watermelon kicks thee ass), and bawled like an emo-scenester at the dramatic climax of Married By America. He's got a horrid sense of humor (if he pulls a chair out from behind me one more time...), but he's such a monster of a man that you dare not mention how unfunny he is for fear of being squashed like a bug the next time his humongous hand puts his gallon beer tankard down on your head at Monday morning staff meeting. He can be quite charming, like, at the office Christmas party, when he gave us all $100 dollar bills and complimentary New Edition CDs (Greatest Hits Volume 1 -- used), just for lining up and individually reciting what each of us likes best about him.

Second-In-Command at our little music conglomerate is Ryan O'Neill. Ryan is the strong, silent type. In fact, he doesn't speak at all, just communicates with sign language. Not American sign language per se, but a more simplified version consisting mostly of two gestures: the flip off, or thumbs up. Seriously, the middle finger comes flying up into your face if you've spoken out of turn, or the "thumbs up" greets you should you have done something to please him (like, tossed a bag of corn chips in his direction, to be dunked in his morning coffee). Oddly enough, he's a fiend for Celine Dion, often standing at the window of his high-rise corner office, arms outstretched, eyes closed, softly humming "My Heart Will Go On."

Jason Dietz, Network Ninja, is a mystery to most of us. He resides somewhere in the bowels of the building, emerging at random intervals with lightning speed to scream repeatedly, "Back up your fucking files!" After streaking through the corridors he gives a quick grab for the receptionist's boobs (well, honestly, with a name like Tiffany, she's asking for it) then flees the scene, arms and legs akimbo, to leave us in peace for another month.

Jett Black is another odd chap. Mostly because he wears all white. All. The. Time. And never spills anything on it!!! I don't know if I can trust a man who can't seem to soil himself once in a while. But, as office mates go, he's not a bad fellow... except when he wants to practice his knife throwing. You know, it's not the death defying feat I mind, it's the spinning around on that big wheel, while he's chucking razor sharp, pearl handled devices of destruction in my direction. If he'd only give me 24-hour notice, I'd wear panties that day.

Then there's Bob (aka Clint Darling); a 14-year old boy, purchased from an Asian sex ring desperate to unload him because he was neither Asian nor sexy. Alex was kind enough to clean out the ashtray in his Jaguar XK to foot the bill, and Bob, er... Clint has been with us ever since. Bob/Clint is cute as a button, with big, pinchable cheeks (top and bottom), and a cherubic countenance that has the secretary pool in a swoon of maternal instinct every time he toddles by. However, underneath his angelic facade lies a rapacious wit and cunning mind. Oh, how he and I gleefully gossip in the mess hall, over our plates of smoked lox and caviar, about the stupidity of our fellow human beings. His deviousness knows no bounds. It was Bob/Clint who, last December, originated the eventual disintegration of the New World Order by sending this note to the President of France: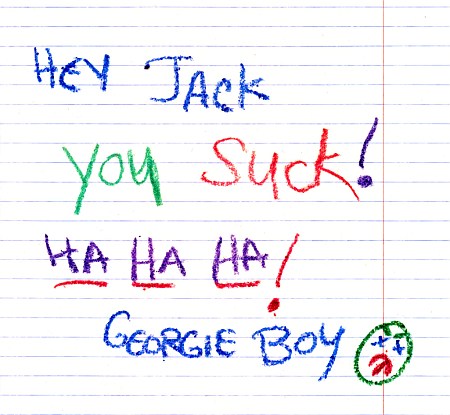 It still makes me giggle to see it! He's a minx, he is.
I could go on, but I don't want to. Just suffice it to say that it is a rather strange, brilliant, morally lacking group of lovelies I work with.
Remember, I like you best!
Sidekick Krissy moved to New York and, even though I don't return her phone calls or emails, I miss her bad. Console me here: [email protected].