The Magnolia Electric Co.
The Magnolia Electric Co. (Secretly Canadian)
By: Alex Steininger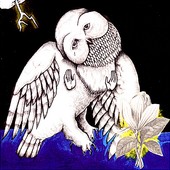 For the seventh Songs: Ohia album, The Magnolia Electric Co., Jason Molina, the man behind Songs: Ohia, continues on with his blue-collar indie-rock design. Beefing up the lo-fi sound somewhat (but not all too much). And stretching out a bit - from recording a song with the touring band ("Farewell Transmission"), to allowing others to sing lead (Lawrence Peters on "The Old Black Hen" and Scout Niblett on "Peoria Lunch Box Blues") - Molina puts all his strengths to work.

Incorporating a lot of classic rock influences this time around, Molina slides back and forth between songs like "Farewell Transmission", an indie rocker dressed up in 70s rock clothes, but still quite proud, and fond, of its indie, no bullshit way of addressing the melody. And songs like "John Henry Split My Heart", a song bred on southern rock.

"The Old Black Hen", dips into the alt-country realm, unleashing another layer to the album, and to Molina's songwriting. While female vocals on "Peoria Lunch Box Blues", which quickly succeeds "The Old Black Hen", further helps broaden the flavor and diversity of this album, all while keeping everything circling the album's classic, southern rock styles.

Molina sometimes stretches himself a bit too thin while trying to accomplish new things, but his natural, effortless approach and simple demeanor downplay the 'bells and whistles', if you will, he tries to flavor into his blue-collar songwriting. While his voice and lyrics, which still remain the focal point, and main attraction here, keep you from wandering. I'll give it a B.