INTERVIEW: Amelia
Somewhere Left to Fall (Amelia's web site)
By: Anthony Davis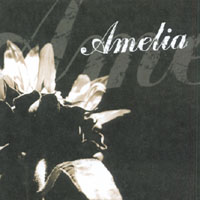 Amelia is Scott Weddle, Teisha Helgerson, Jesse Emerson and Richie Cueller. You may recognize these names. Scott, Jesse and Richie are former members of the Flatirons. But this isn't the Flatirons. It's Amelia. And their new album, Somewhere Left to Fall is quite simply some of the most beautiful music to ever come out of Portland. The song's are well constructed from top to bottom, and Teisha's angelic voice gorgeously accents the tremolo guitars, the bass, and the Wurlitzer.

I caught up with Amelia before a gig at the Laurelthirst, and asked them about the inspiration for this great album. Scott, who wrote all the songs, credits former Flatiron guitarist Jason Okamoto for the songs. "Jason is a God. He taught me everything I know. I took the best things from the Flatirons, and added some sounds I thought completed the music." From the sound of it, a lot of time and effort went into this album. The other band members describe Scott as a bit of a perfectionist. Scott admits as much. "I had a clear vision of each song. I think it was difficult during the taping, because I was looking for an exact sound, and we kept doing it until that sound came out." It was particularly tough for Teisha, who wasn't used to the pressure. But the end result was well worth the work. The lyrics are truly great, and the music, behind Teisha's naturally amazing voice, brings out the emotion that flows throughout the album. "I'm all about melancholy," says Scott. Indeed, when working on a new song, Jesse asked Scott for his advice. Jesse says that "Scott loved the song, but didn't like the fact that I used the word "happy" throughout." Scott doesn't think "there's room for 'happy' in these songs." Although these lyrics aren't about happiness per se, they are haunting, and a sheer joy to listen to. As a self-proclaimed "sucker for hooks," Scott made each of these songs an easy listen, and all are radio-friendly -- but what station? It's hard to describe what "type" of music this is, and neither Scott nor Jesse had any interest in trying. "It's just great music," said Jesse. Scott had many inspirations. He took the best of rumba, pop, soul, country and folk, and carefully created his own sound. Fans of Music, will enjoy this album. It's really got it all.

I stayed for the show, and it was well worth the wait (and the lost sleep). The songs sounded even better live. Unbelievably, though this album just came out, they played a lot of new material, some written by the other members of the band. There newer stuff seems a bit more up tempo, with Teisha beautifully singing a few rumba-influenced numbers in Spanish. Think Gypsy Kings meets Fleetwood Mac. Very nice. The band and Teisha work together effortlessly. The sweet sound literally pours over you like warm maple syrup. I'm ready for another helping, and you should be too. Come to their next show, and bring a date. This music is sure to put your date in the mood. Check their schedule at www.ameliaband.com and go buy this album. Support local music at its best.