Mark Mallman
Who's Gonna Save You Now? (Tee Pee Records)
By: Alex Steininger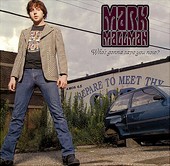 Following up his forth solo effort, 2002's The Red Bedroom, with the Who's Gonna Save You Now? EP, Minneapolis singer-songwriter Mark Mallman takes a step back from the glossy production of The Red Bedroom. Here he delivers a more off-the-cuff pop treat in Who's Gonna Save You Now?.

From the 70's rock influences of the title track through the sparse acoustic "Hook Hand", and the airy "Outside the Castle", complete with robot-esque vocals, or the lament of "7 a.m. and Sober Again", Mallman's less is more abilities shine. He proves he can craft heavily produced pop songs and blow you mind, or just sit down at a piano and craft sparse numbers that make you want to curl up next to a fire and have him sing to you, the ultimate comfort zone.

Who's Gonna Save You Now? is another tasty offering from one of pop's brightest rising stars. I'll give it an A-.