Cousteau
Sirena (Palm Pictures)
By: Alex Steininger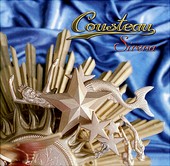 A smoky, dim lit club, people sipping their beers and flirting with one another, dressed up as they look for someone to call their own, or at least make a connection for the night.

The evening is fueled by the romantic, sensual sounds of Cousteau, the lead singer's ability to go from a dark, breathy moan to a soaring falsetto stunning even the harshest of critics. His piano mesmerizing you, its silky smooth sound melting away any inhibitions you were feeling before you stepped into the bar. The backing band's subtle rhythms and the band's collective warmth wrapping around you like a blanket.

It could be any bar, anywhere. The people are the same and so is the mood. And so can the music. The right album to create the ambiance to make you feel good even if you walk away empty-handed not too far out of reach.

Cousteau's Sirena that album. It is a rich, vibrant piano-pop album, one that will more than fulfill the desires you're feeling. The passion and consistency of the album providing you the love and admiration you may not be getting elsewhere, or helping you connect romantically with someone else. This is a burning hot, gentle, hook-laden pop record, a magnificent collection of gorgeous, timeless pop songs that will make you want to fall in love, cry, and scream out loud in excitement. I'll give it an A-.