The Sea and Cake
One Bedroom (Thrilljockey)
By: Alex Steininger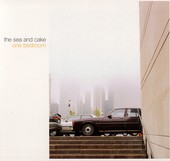 Opening with "Four Corners", its synthesizer creating atmosphere and setting the tone for the song (and album), The Sea and Cake quickly establish One Bedroom, their latest, as an album of unquestionable poise and beauty.

Including a cover of David Bowie's "Sound & Vision", One Bedroom captures danceable beats inside an indie rock package, using songs like "Hotel Tell" and "Shoulder Length", both undeniably groove-laden, to get you to dance and smile. And then shifting gears with the likes of "Left Side Clouded", the title track, and the atmospheric "Interiors", the after-the-dust-settles relaxers that make you contemplate and absorb the profound and the absurd, both of which The Sea and Cake use to create their unique sound. And let's not ignore the new wave attempts of "Mr. F", a song that seems to pull back the punches, while still allowing some new wave to leak through.

This is a fine release from a fine band, an album that does the unthinkable, make you dance and shoe gaze. How's that for a combo. I'll give it an A-.