The New Folk Implosion
The New Folk Implosion (IMusic/BMG)
By: Alex Steininger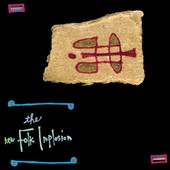 Exit John Davis, enter Russell Pollard (Sebadoh, alaska!) and Imaad Wasif (lowercase, alaska!), and Lou Barlow has regrouped the Folk Implosion, carefully labeling it the New Folk Implosion. The result is a collection of new songs, the self-titled full-length that boosts nine songs of extraordinary musicianship and songwriting abilities.

From the opening rock of "Fuse", a simmering, rhythm-centric bomb waiting to explode. The guitar-led mid-tempo pace of "Brand of Skin". And the acoustic "Pearl", which would sound like Barlow solo except for its strong production and professional recording. Through the distortion of "Coral", The New Folk Implosion lives up to the Folk Implosion roots.

This is a strong, well-written, more-than-capable collection of rock 'n' rollers who like to play with some mystery, pulling back the punches for the better of the songs, containing the energy to make sure the songs boil, instead of spilling them out and letting it all go at once.

These are intellectual, without going too far, powerful songs that believe in beauty of less-is-more while still being able to rock, keeping things down when needed, and letting go during other times.

Barlow, Wasid, and Pollard all click nicely, creating a band, and thus a record that will floor you. I'll give it an A-.