The Loch Ness Mouse
Key West (Happy Happy Birthday To Me Records)
By: Alex Steininger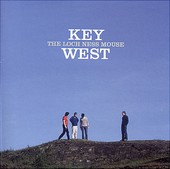 Incredibly saccharine pop music, the warm, inviting melodies of The Loch Ness Mouse's latest, Key West, are undeniably pleasant. The easy going, relaxed pop-rock beats swim in sugary sweet goodness, sounding like your favorite candy bar tastes - so damn pleasing. The band effortlessly re-traces the steps of 60s pop legends while putting their own spin on the sound, making it feel refreshingly retro and surprisingly new.

If this band isn't a hipster favorite in a few years, there is something significantly wrong. The sublime beauty of this simplistic, good natured pop record is the essence of all that is right in music. The love of putting on a record, having it make you feel good, and taking you away into another world (a happy place) before you return to reality to face the highs and lows of life. I'll give this a B+.