Manda and the Marbles
More Seduction (Go Kart Records)
By: Vinnie Apicella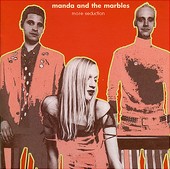 Fronted by the sexy Manda, Manda and the Marbles turn punk rock upside down, the sweet, innocent looking Manda really a fierce rocker grrl ready to kick out the jams with her two band mates, Mark Slak (drums) and Joe A. Damage (guitars). Manda herself handles bass, vocals, and the occasional keyboards.

On their debut, More Seduction, Manda and the Marbles fuse power-pop with punk rock, creating a sound that brings them to the top of the pop-punk world. Driving it home with an appetite for punk rock, the voice of Manda contrasts nicely with the band's brand of punk, while their melodies are top notch, making you fall in love verse after chorus after verse.

Songs like "Fast Cars" and "Dead By Dawn" - as well as the rest of the album - are sugary sweet, hook-laden, and infectious, the punk rock subtly living in the rhythm section, while the guitar and vocals scream power-pop.

If this is pop-punk, than all others should be ashamed. Manda and the Marbles play it straight ahead and fun, making you bop and bounce, sing along and smile. They create happy-go-lucky melodies with a fierceness you can sink your teeth into. And it's good. I'll give it an A-.