Division of Laura Lee
Black City (Epitaph Records)
By: Vinnie Apicella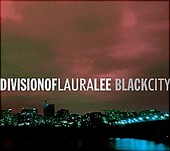 Creating sonic garage-rock that is both hard rocking and hip shaking, Sweden's newest import, Division of Laura Lee, following the lead of friends and former label mates The Hives, transform Black City into an all night party, a city where anything can happen and does. The kids are never lonely, there is always something to do, and even during the darkness, Black City is lit up with fire.

"Access Identity" comes crashing through your doors with its full-throttle buzzing guitars, while "I Guess I'm Healed" takes on a more brooding approach, the dark texture of the keyboards and light rhythm section fleshed out by moody guitars and soft vocals.

The title track throws another buzzing garage-rock number your way, yet "I Walk On Broken Glass" once again shows the band is more than rock guitars and tightly woven melodies, as it penetrates your mind with another brooding, atmospheric moment centered around keyboards and light guitars.

The rest of the album, however, goes from dark, heavy new wave through fierce punk-rock influenced numbers, making this band one of the most original on the modern garage-rock scene. I'll give it an A-.