INTERVIEW: Minus 5
Scott McCaughey Discusses Getting Down with Wilco (Yep Roc)
By: Alex Steininger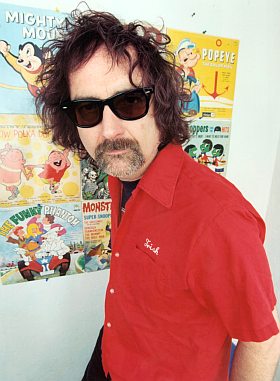 Scott McCaughey is a legendary songwriter, touted by Paul Westerberg as the greatest modern rock 'n' roll songwriter and hand-picked by Westerberg to have his band, The Young Fresh Fellows, tour with Westerberg's legendary Replacements.

With the Young Fresh Fellows, McCaughey has not only influenced countless post-punk and college rock bands, he has also established himself as a musician's musician, a songwriter able to get praise from the toughest critics - peers and snobby journalists.

Besides the Young Fresh Fellows, McCaughey has also earned a reputation as a fine popsmith, crafting jagged, lush, loose, and balls-y pop songs with his other outlet, Minus 5, which also includes R.E.M.'s Peter Buck and The Posies' Ken Stringfellow. Oh, and besides fronting his own critically acclaimed bands, McCaughey also records and tours with R.E.M. as a member of the band.

So it is no surprise that McCaughey's friends and fans Jeff Tweedy, John Stirratt, Glenn Kotche, Leroy Bach - all four members of Wilco - had proposed the idea of recording an album together.

The result is Minus 5's latest, Down With Wilco, a record McCaughey flew to Chicago to record with Wilco.

"It was something we talked about for awhile and they were in between records and weren't contractually obligated to anyone, so it was the right time to do something," McCaughey comments on Down With Wilco's origins. "The whole Yankee Hotel Foxtrot dilemma they were going through, they had some time off, so it worked out for me."

Of the song selection process, McCaughey explains, "We went into the studio with a list of 20 possible songs and then we may have done a few not on the list and left a few we recorded out, even though they were really good."

Working on arrangements and even writing songs the night before they were to record them, Tweedy would pick up McCaughey from the airport, go to Tweedy's place, work on the material, and then track the songs the next day in the studio.

"Some of the songs were sketchy as I was still writing some while we were recording. Sometimes Jeff and I would work on them the night before we went into the studio to record them," confesses McCaughey. "It was sketchy, it wasn't like other Minus 5 records where I'd record a lot before anyone ever touched them. But, it was a great experience."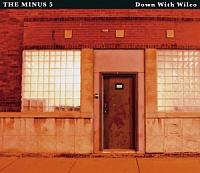 McCaughey is the primary vocalist and lyricist for the record; however, he says he owes a lot to Wilco, and especially Tweedy, for seeing the record through and helping point it in a direction.
"Jeff had a lot to do with the record. He had more of a vision for it then I did in a way," McCaughey tells me. "He pushed me to play a lot of piano over the guitar. He had an overall concept of the record and knew what he wanted it to be, and I really didn't have that. He helped me work on the order and everything. He helped produce it with me, which was great. A lot of the credit should to go him."
The other two consistent members of Minus 5, Ken Stringfellow and Peter Buck, had little or no input, literally coming over to McCaughey's house, learning a part, playing it, and then leaving to forget what they just did.
"I didn't give Ken or Peter the chance to really add their input to the songs," McCaughey informs me. "You'd be amazed at how fast we did it. Ken came over for two days and heard it for the first time, and the same goes for Peter. Those guys probably played on most of the record and couldn't remember anything a month later."
For McCaughey though, the hardest part wasn't the writing or the recording, it was the mixing of the record that took time for him. "The hardest part for me is mixing. My feeling is you can mix 3-4 songs a day and we took way more time than that to mix this record."
Originally recording the record for Mammoth, a division of Hollywood Records, and planning on the release of the record in June of 2002, when Hollywood pulled the plug on Mammoth, McCaughey found himself without a home for Down With Wilco.
"Hollywood had their option to release the record, but they passed on it," shrugs McCaughey, "though they were really nice and helped get me off their label quickly so I could shop the record around."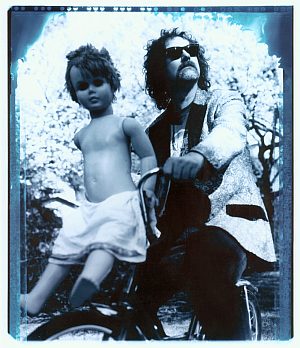 Whereas most artists would find themselves in a panic mode having just recorded a record for a label and then seeing the label fold, McCaughey's cool, calm, collective attitude prevailed and he went about his business, touring with R.E.M. before looking for a new label.
"I wasn't worried. I figured there would be some good options," he says, sounding relaxed and carefree. "I was lame about going out and looking because I was touring throughout the summer. But when I got home I sat down and sent packages out and heard back from four labels who were seriously interested."
"I could have picked any of the labels I was talking to," he continues. "I could have gone with anyone of them and gone any way. But, in the end, it was something tangible that made me go with Yep Roc. They had Nick Lowe on their roster and that was the reason I had sent Yep Roc the record in the first place. I wasn't really all that familiar with the label before that. I knew the name and all, but all I really knew about them was they had Nick Lowe. Then they called back and said they were interested and we continued talking, they seemed like really cool people, so I went with him. But Nick Lowe was the reason I chose them over the others."
The record is slated for release in February, and McCaughey is anxious to get it out so he can start giving friends copies of the record.
"I keep running into friends of mine who tell me, 'I can't wait for the record to come out so I can actually hear it.' I've given away very few copies of the record. I just don't want people to get burnt out on it. We recorded The Young Fresh Fellows vs. Minus 5 record and it didn't come out for a year after we mastered it, and by that time everyone was tired of it. So I didn't want that to happen this time."
McCaughey himself has stopped listening to the record, in anticipation of its release.
"I've consciously not listened to the record for 2-3 months now because I was so into it that I told myself I had to stop listening to it so it would be a treat when I put it on again". He is quick, however, to point out what he loves about the record.
"My favorite songs on the album are 'The Family Gardner,' since Jeff sings it, and I also love 'Dear Employer,' the final song on the album. I love the way it starts, I love the middle, and I love the way the album finishes. I just love the record. It's a bit of a downer, but that's OK."
Though the band does not have plans to tour, due to McCaughey's R.E.M. commitments, in the fall they went on a West Coast tour with Wilco, a tour McCaughey will never forget.
"Every night something happened," he says of the tour. "One, two, or three of (Wilco) would come out and play on our set. It was great. Every night was different and you never knew what would happen. There was even a few times we were all out there."
The band will do another West Coast tour to support the release of the record, but beyond that it is up in the air, though there has been talk about a U.S. Minus 5/Wilco tour.