VARIOUS ARTISTS
Diva X Machina 3 (COP International)
By:

[email protected]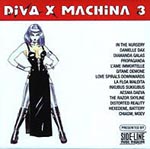 DIVA X MACHINA 3 features some of the best artists in the goth/industrial scene that are fronted or composed of members who are women.

In the Nursery paces the album with "Groundloop". Luscious, full of depth, showing off a diverse collection of samples including strings, oboe, and thundering timpani. While containing elements of the symphony, it still dances your ass off.

Distorted Reality keeps the pace rocking with their coveted track "You want me, You hate me", an intense dance-industrial track.

Propaganda's "P - Machinery" brings to life the refreshing sound of the best 80's dance. "P-Machinery" is influenced with the best elements of such acts as Depeche Mode, Miami Sound Machine, and Siouxsie and the Banshees.

Love Spirals Downward touches the heart strings softly with "Alicia".

Inkubus Sukkubus winds up the emotional intensity once again with their unique brand of goth-rock. Vocalist Candia sounds remarkably like vintage Pat Benatar. Warm, but with an undercurrent of icy grit.

Other highlights of this 16 track album include cuts from Chiasm, Hexedene, Diamanda Galas, Danielle Dax, La Floa Maldita, Moev, L'ame Immortelle, Battery, Aesma Daeva, Gitane Demone, and The Razor Skyline.

DIVA X MACHINA 3 is only a fraction of the wonderful Goth/Industrial acts out there that just happen to be fronted or composed by members of the opposite sex. This compilation is highly recommended as an excellent eye-opener.