Mindless Faith
Manifest Destiny (AlterCulture Records)
By:

[email protected]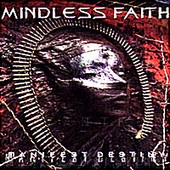 Industrial music. Say those two words and in the minds of most fans a handful of truly memorable acts emerge. Einsturzende Neubaten, Throbbing Gristle, Ministry, Nine Inch Nails, KMFDM and Skinny Puppy. All of the aforementioned bands have careers spanning well over a decade, and in the case of many, over two decades. Industrial fans have waited patiently for a new act that deserves membership in this elite inner circle. Welcome the most likely candidate, MINDLESS FAITH.

Industrial and creative EBM, MINDLESS FAITH has been writing and performing music since 1995. A product of brothers Jasin and Chris Sevanick, MINDLESS FAITH has paid their dues both live and in the studio. Manifest marks their second full-length release. No strangers to the industrial community, they have appeared on some of the most prominent industrial/electronic labels in the world, including CLEOPATRA, BLOODLINE, METROPOLIS and CARPE MORTEM.

Manifest Destiny covers all the required sonic bases for the discriminating industrial fan. Intelligent, thought provoking lyrics. The screams, growls, self-loathing, dire warning and nihilism are all present. Even the faux British accent is present.

The album also contains a video of "All These Years", continuing a tradition begun recently on earlier releases. The video delivers an excellent live performance that feels like a Nine Inch Nails video performance circa the Pretty Hate Machine era.

Tightly and well-crafted production allows us to travel easily within the sonic realm they've created unobstructed by any major flaws. It is a pleasure anticipating what lies ahead with each track. MINDLESS FAITH deserves a place among your CD collection.