The Lyndsay Diaries
The Tops of the Trees Are on Fire (The Militia Group)
By: Alex Steininger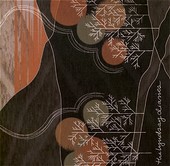 Twenty-one year old Scott Windsor, who records under the moniker The Lyndsay Diaries, has grown leaps and bounds from last year's Remember The Memories. Still a less poppy, less produced version of Dashboard Confessional (a friend of Windsor's), The Lyndsay Diaries' greatest accomplishment on the sophomore full-length is the growth in the songwriting.

Barely able to buy a drink, Windsor has a lot of growing up to do, but does quite well with his 21 years of experience. Heartbreak, disillusionment, and confusion play a big part in his lyrics, like most songwriters. The way he expresses these feelings is by playing lo-fi, mid-tempo acoustic-rock that borrows from both emo and pop.

Learning to better control his voice, where it grated on you during the debut, it seems to grow on you here. With the same passion and emotions that filled Remember The Memories, The Tops of the Trees Are on Fire sounds like a man struggling to understand the way life is. All while pondering his next move in life, opening up and searching for the answers in front of you.

It is a pleasant experience to witness, and even at its weakest, makes you believe bigger and better things are on the horizon for Windsor and his musical endeavors. The Lyndsay Diaries could be the next Bright Eyes; I'll give it a B.