OK Go
OK Go (Capitol Records)
By: Alex Steininger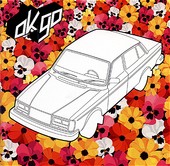 Unlike other modern rock bands, OK Go's opening track, "Get Over It", a song seeing plenty of airtime on commercial rock radio stations across the nation, actually made me want to continue listening to the album. It's infectious blend of attitude, hooks, and lyrics you actually want to sing along with make it a should-be instant winner at commercial radio. Though, with good bands on the radio these days, something always goes wrong and things never pan out. Let's hope that is not the story for OK Go, because the rest of their self-titled debut full-length is just as catchy and rocking, making the band poised to take over the airwaves if their melodic modern rock isn't passed over in favor of more hard rock acts.

"So Damn Hot", a good choice for a follow-up single, combines the crunchy guitars of the opener with charming vocals that can swoon you with a near falsetto line before going back to the pretty boy, clean cut vocal style, which works perfectly with their brand of rock.

"Shortly Before The End", is a mid-tempo ballad that showcases the singing abilities of Damien Kulash, Jr., as he forgoes the noise and sings in a pretty tone, complimenting the melodies the band has brewing in the background. Less modern rock and more abstract pop, the band leave the commercial radio format for a song to create a swirling, slightly psychedelic melodic pop song.

"C-C-C-Cinnamon Lips" is a quirky pop-rock song that bounces and jangles, dwelling more in the pop realm than rock, as the band drops the crunchy guitars to make you get up and bop around.

Very rarely do you see modern rock bands like this on majors, let alone on commercial radio. They have a few infectious, undeniably hook-laden charged rockers perfect for the radio, a lot of pop influences that help them weave and spin through gorgeous melodies and bouncy pop nuggets, and a knack for writing solid songs whether they're loud or soft. I'll give this a B+.