INTERVIEW: Spoon
Austin, TX's reigning indie-rock kings (Merge Records)
By: Alex Steininger




The Austin, Texas, band Spoon has been through a lot during the past four years. In 1998 they left Matador for the seemingly greener pastures of Elektra Records. However, following the release of their third full-length, and first for Elektra, Series of Sneaks, the band was soon dropped from the label. They detailed the horrors of their major label stint on The Agony of Laffitte (Saddle Creek), a two-song EP that was retaliation aimed at Elektra A&R man Ron Laffitte.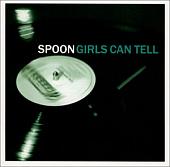 Without a label, principal members Britt Daniels (guitar/vocals) and Jim Eno (drums) went into the studio to make a record. The result Girls Can Tell, Spoon's most straight-ahead pop-rock album, a tighter, better produced follow-up to the spacious experiment of Series of Sneaks.
Explains Daniels, "With 'Girls Can Tell, I had it in my mind I wanted to write some more traditional pop songs, so that is why the album turned out like that."
However, once the record was completed, they ran into hardships trying to find a home for it.
"Nobody wanted to put it out," recalls Eno. "We were really frustrated because we made a record we thought was great and couldn't find anyone willing to get behind it."
The band sent a copy to Merge, which sat on it for months before someone finally gave it a listen and called the band to tell them they liked it and would gladly put it out.
A success for the band, and reassurance following their tragedies at Elektra, Girls Can Tell found wide acceptance throughout the indie world, receiving spots on many critics' best-of year lists, and reconnecting Spoon with its fans.
After touring for a good portion of 2001 to promote Girls Can Tell, the band instantly entered the studio to start work on the follow-up, Kill the Moonlight. The new record recalls the finest moments of Series of Sneaks, opting for the spacious approach over the more basic rock format of Girls Can Tell.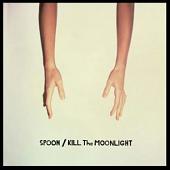 "With Kill the Moonlight, we wanted to do something that wasn't as straight ahead as Girls Can Tell, comments Eno. "We wanted to do something more along the lines of Sneaks.
Ironically, the indie-released Girls Can Tell sounded more major label-friendly than Series of Sneaks.
"I think one of the reasons Series of Sneaks doesn't sound like a major label release is that there was a lot of tension while recording that," Eno explains. "Britt and I wanted to take it in a different direction than the producer and the labels. It's not a safe record; we didn't want to make a safe record, whereas the producer wanted to head more in a safe direction. We wanted it to be more organic, livelier. Series of Sneaks is a lot of battling and compromising.
"The fact that Girls Can Tell sounds more like a major label record- it just happened that way," adds Daniels. "And, as for Kill the Moonlight sounding more like Series of Sneaks than Girls Can Tell, there was just this urge to make it more out there and it ended up the way that it did. Things like that just happen. And that's the way the best records come out, just happening instead of planning them out."
In making their finest record to date, the band members separated themselves from the conflict of Sneaks and the drawn out recording process of Girls Can Tell, choosing to focus and remain focused until the record was done.
"Girls Can Tell doesn't sound as cohesive as Kill the Moonlight because Britt and I started recording it at one place, dumped it onto two-inch 16-track tape, and then finished it at a few other studios,' Eno reports. "But Kill the Moonlight was recorded at the same place (and) mixed at the same place, so it sounds more cohesive to me."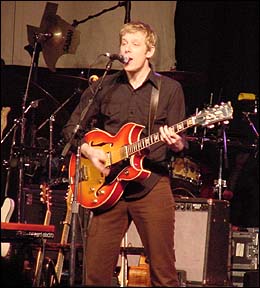 With time and a dedicated studio for the project, the band took full advantage of the situation, developing and nurturing the songs to a pleasant result, far exceeding their expectations.
"The songs always evolve in the studio," Daniels tells me. "I'll write them, demo them a bit, bring them to the guys and they'll change a lot, and then four track them some more and watch the new ideas come into play. And then we go record them in the studio and even more ideas come in, so they're always evolving and changing.
"I think you should always keep your mind open and let whatever is going to happen happen. It works better than trying to plan everything out and when it doesn't happen that way, have to re-think everything."
Daniels, completely happy with the new album, still wishes he could go back and change a few things.
"There are two songs I think didn't turn out as well as they could have, but other than that I'm really happy."
With renewed sensation for the band, a Series of Sneaks re-issue was bound to happen. Coming out soon on Merge Records, the album will feature the two songs from The Agony of Laffitte EP at the end of the album, bringing to a close the major label story that Series of Sneaks went through before taking life.
"I'm glad it is being re-released," Eno happily announces. "I think it's a good record and it proves that good music will persevere. I'm thrilled that it is out there and I think it is a sad thing that happened, but it is a beautiful thing that it has turned into. Too bad for Elektra. It would have been great for their catalog, but it's their loss."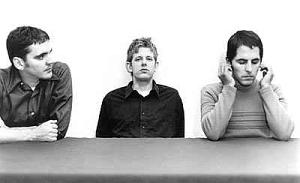 "I think they wanted extra tracks," he continues, discussing the two bonus tracks added to Series of Sneaks,"and we wanted them on there. It's an answer to what happened, so we put them on there. The amazing thing about the two songs is that it started out as just song titles. We were on tour and Britt wrote the song titles and then decided he was going to write songs about the song titles. The lyrics on those songs, once you know the story, they're really powerful."
The agony of Ron Laffitte has a comical twist which Jim and Britt are more than happy to explain. At a dinner, Spoon's friends the Faint, who were being courted by one Mr. Ron Laffitte, handed the A&R man a copy of the Series of Sneaks re-issue with the bonus tracks.
"We didn't even hear about it until it happened," laughs Eno. "We're good friends with the Faint, we love those guys. They were being courted by a bunch of labels and Ron Laffitte wanted to sign them. So they go to sit down and immediately whip out the album and go, 'here you go Ron.' It was great. I guess he turned white and his boss, a big guy at Warner, was sitting right next to him. And, of course, being all A&R (he) was like, 'what's that?' I still can't believe they did that but think it is very funny."
Now Spoon is happier than ever. Ron Laffitte felt a part of the agony that he caused them, and Series of Sneaks is once again seeing the light of day. Things seem to be coming up roses for Spoon these days.