From Good Homes
Farewell Concert 1999 (Bos Music)
By: Alex Steininger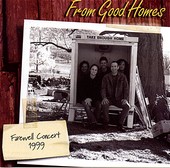 From Good Homes (fronted by Todd Sheaffer, who went on to form Railroad Earth), played their last show on August 7, 1999. Capturing it on tape for future release, the band, and their label, decided to give fans something to remember them by. A positive, give-it-your-all performance that showcased the band as they were meant to be heard, in front of 5,000 screaming "homies" who came to pay their last respects and witness their favorite band at their peak.

Kind hearted, natural, rootsy-folk and acoustic country influences, From Good Homes created a from-the-soil sound that was as grassroots as it gets. Planting the seeds and watching the fruits of their labors grow, the hard-working quintet's music followed the same course. The acoustic guitar and voice structure of each song is elaborated on as each performer adds their own touch, coming together to create something meaningful and uplifting.

It is this uplifting spirit that transcends From Good Home above and beyond other bands of their ilk, as documented on this album. And it is with fond memories they go out, giving the fans one last nugget to remember them by, a studio outtake, "Into The Light", which helps round out this nine-track, seventy-four minute album. I'll give it a B.