Knoc-Turn'Al
L.A. Confidential Presents Knoc-Turn'Al (L.A. Confidential/Elektra)
By: Adam A. Nielsen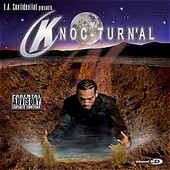 When I am looking for an album to review I usually shy away from EP's or preview albums. Knoc-Turn'Al is now the exception to my rule. With production by Dr. Dre and Kanye West and after hearing the first single, The Knoc, I knew that I had to check this one out. It did not disappoint.

Filled with guest MC's like Warren G, Xzibit, Jayo Felony, and Too Short, and the aforementioned production by Dr. Dre, this album is very strong. Knoc also has some guest hooks from Missy and Nate Dogg. But enough about the roster, let's talk content. Knoc-Turn'Al is West Coast all the way. Representing his coast and his way of life. Throughout the album he is "Straight West coasting" and rhyming about parties, palm trees, and 63's.

The first song, "The Knoc" is his radio joint. Dre joins for some rhymes and Missy sings the hook in a way that only Missy can do it. #2 "Musik" is the best and most energetic song on the album. Kanye West delivers a Military-like beat and Knoc is able to keep pace, you can feel the energy and that go into it. Str8 Westcoast is a straight up west coast party anthem. Knocturnal will not be outdone or outshined by his guest lyricists, check this one out.