Peaches
The Teaches of Peaches (Beggars Banquet)
By: Alex Steininger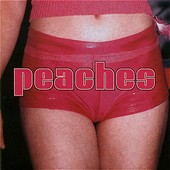 With song titles like "Fuck the Pain Away", "Cum Undun", "Diddle My Skittle", and "Lovertits", Peaches better be able to back it up with some good music and attitude, and she does. Weaving between hip-hop, electronica, and punk rock, Peaches delivers the sexiest rock 'n' roll record of the year, The Teaches of Peaches. Available domestically for the first time, via Beggars Banquet, it comes equipped with a bonus CD of new and rare material, as well as the video for "Set It Off".

Kicking it off with the fiery "Fuck the Pain Away", Peaches is unabashed about sex, and makes that abundantly clear. Opening with the line, "Sucking on my titties like you wanted me, calling me all the time", she makes no bones about her sexuality and sex-drive.

Her frankness shocks like no other, bringing the rock value of Kiss and Alice Cooper to the forefront, and making imitators like Marilyn Manson seem like nothing more than a pre-schooler trying to get your attention.

On the single, "Set It Off," Peaches provocatively explores electronica, turning the drum-machine, keyboard, and vocal number into a melodically rich, danceable rocker.

On "Diddle My Skittle" Peaches makes industrial sound hip again, using less guitars and rage (avoiding the metal traps of most modern industrial bands), recalling the early day of Industrial while making it completely new, and completely its own.

On "Lovertits" Peaches takes her hand at funky-soul, the dance groove bouncy and fun, perfect to have sex to, or blast out your car while you're cruising down the highway nearly twenty miles over the speed limit, having the time of your life.

With the bonus CD, including "Sex (I'm A)", "Casanova", a cover song, and some re-mixes, you get even more Peaches for your buck.

An enthralling collection of sassy, empowered rockers, Peaches creates stylish tunes that make music dangerous again. Just when you thought you'd seen and heard it all she grabs a hold of you and fucks with your mind. I'll give this an A+.