Michael J. Sheehy
No Longer My Concern (Beggars Banquet)
By: Alex Steininger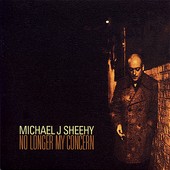 Michael J. Sheehy's latest, No Longer My Concern, hot on the heals of 2001's Ill Gotten Gains, is a gem. Sheehy's past two solo records (2000's Sweet Blue Gene and Ill Gotten Gains) have consecutively found Sheehy growing as an artist and a songwriter, challenging himself as he continues to do what he does best - melodic, melancholy pop songs that redefine the word tender.

Sheehy has not gotten the critical praise or the fame he so rightfully deserves. No Longer My Concern is beaming with the suppressed hooks and slacker pop ambitions that has made others some of the most respected indie artists. Sheehy turns the dark and dreary into promising and romantic. He can make you weep with joy. And comfort you in your time of need.

The songs of No Longer My Concern toy around with the bleak, never fully believing in their own dreary projections, while happily anticipating something better, too afraid to come forward and say it, preferring instead to project it through the underlined pop tones.

One of the best records of the year, Sheehy makes gloom sound cheery, and will win you over with the most passive voice, carefree guitar picking, and faint percussion you're likely to hear this year. I'll give it an A.