Reggae Rocks
Blowin' in the Wind - A Reggae Tribute To Bob Dylan (Madacy Entertainment)
By: Alex Steininger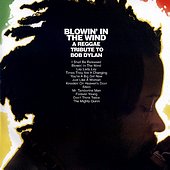 A reggae tribute to Dylan? Interesting to say the least. That's what I thought when I first opened up this CD. It then sat in a pile for about a month before my curiosity got the best of me and I had to put it on. Before the music started I kept telling myself, "Why bother? Almost all Dylan covers I've heard haven't done him justice." That's because they're never anywhere close to as good as the original and they're nowhere near as thought provoking or from the heart as Dylan's originals. But, the fact that it's a Dylan song, and Dylan's lyrics, always makes the song better than most, despite bands' efforts to ruin and destroy it (in the name of paying homage to their idol).

Let's be honest, this reggae tribute is nowhere close to being as good as Dylan's originals. They also sound nothing like Dylan, the skeleton of the songs and the melodies still in tact, but the bulk of the song has changed. Still, the fact remains that they are Dylan songs and they're still stronger than most. And to hear reggae versions of them is fun and quite relaxing. So, if you're a fan of Dylan and reggae let me tell you, you'll be a happy camper here. I'll give it a C.