Onelinedrawing
Visitor (Jade Tree Records)
By: Alex Steininger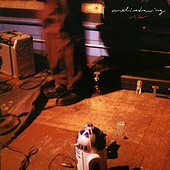 Ex. Far front man Jonah Matranga goes by the name of Onelinedrawing when it comes to his solo songs. His latest, Visitor continues on with the sparse, lo-fi nature of his previous releases. Recorded primarily on his G4 Powerbook, by recording at home Onelinedrawing is not only able to record songs whenever he feels the urge, but he's also able to capture himself as his most vulnerable, an honesty that makes the intimate songs even more accessible.

With just an acoustic guitar, piano and piano feedback, and his voice, Onelinedrawing starts off Visitor with "Um...", a tender, emotionally ripe offering.

"Bitte Ein Kuss" is a lo-fi, bouncy pop song that almost sounds upbeat except for Onelinedrawing's heart-on-the-sleeve singing style that bleeds emotion, all the pain and heartache that goes into every note. With the help of the drums, the song has a nice rhythmic bounce going to it, and the keyboard generated strings help flesh out the already lively emotions, nearly bringing tears to your eyes.

"Smile" sounds like a demo, the snare drum sounding like a drum machine, and the loose, knock-it-out jam quality to the recording gives it a very unpolished, early 80's college rock, post-punk push. The jangly, indie-pop melody takes the song to another place, making it a rockin', but hook-y pop song that is both catchy and upbeat.

"The Candle Song" and "Yr Letter" are two more minimal, primarily acoustic guitar and vocals glimpses into Onelinedrawing's world. The pain and anguish cry out for help as Onelinedrawing helps administer himself therapy through his own songs.

As a front man for a band Jonah Matranga has always delivered the goods, capable of writing fierce rock songs or poppy, guitar-led melodic indie rock. However, he sounds best left to his own devices, just a guitar and some home recording gear, a few bad relationships, and a lot of bottled up emotions. It is when he reveals himself through the stripped down, intimate forum of Onelinedrawing that all expectations and ambitions are lowered and he delivers a knockout performance time and time again. I'll give this an A.