Girls Against Boys
You Can't Fight What You Can't See (Jade Tree Records)
By: Alex Steininger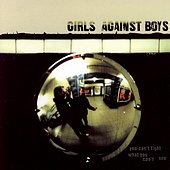 Their first release since 1998's Freak*On*Ica (Geffen) finds Girls Against Boys back on an indie label, playing loud, melodic modern rock with plenty of spirit. Crunchy guitars, pounding rhythms, and a knack for keeping things simple and straightforward, the quartet plays rock 'n' roll like it was meant to be played, relentless and loud.

The album starts off with guitars and it never stops. "Basstation", the album opener, lays on the bass and drums, the guitars ready to strike at any minute, buzzing in with plenty of noise, and the vocals keeping the melody alive.

"300 Looks for the Summer" and "Miami Skyline" are two more examples of Girls Against Boys doing what they do best, playing with their amps cranked up, guitars blazing, and the rhythm section on fire.

The band knows how to write catchy, radio-friendly, crunchy modern rock songs that retain enough indie cred to alienate them from commercial radio. But maintain the nice production and sonic-ness that makes indie rock and rock 'n' rollers alike jump at the name and flock to their shows whenever they're in town. And with good reason, which You Can't Fight What You Can't See clearly points out. This is rock 'n' roll without the commercial ambitions, powered by the same spirit and love of rock that has kept made Husker Du and The Replacements such legends. Will You Can't Fight What You Can't See help place Girls Against Boys closer to becoming legends? It just may. I'll give it an A-.