The Vandals
Internet Dating Superstuds (Kung Fu Records)
By: Chad Roskelley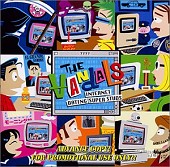 The Vandals' latest album, Internet Dating Superstuds, reminds me of that ex-girlfriend from high school; the one you see at the 10-year high school reunion. At first you notice that she's gained some weight, popped out a few kids, and probably married that one asshole who used to kick your ass. Still, there's something mysterious about her and she still has that underlying beauty. Once you sit down and talk with her, you realize she hasn't changed much at all, just a bit older and wiser.

On its own, Internet Dating Superstuds is a good album; it is catchy (eventually), and it does rock ("4, 3, 2, 1, 0, -1" and "We'll All Get Laid"). "Soccer Mom" is a great song and probably a good starting point. "We'll All Get Laid" is the best song on the album, and while the title may throw you off, "The Unseen Tears of the Albacore" is actually a pretty good song.

Personally, it's not in my top four Vandals albums. Because of this, if you're new to the Vandals, I'd recommend you don't start with this one. If you do and you like it, check out the back catalogue, as I'm sure you'll be thrilled with what you find.

Internet Dating Superstuds doesn't catch as quickly as the last two albums, nor does it drive as hard as the ones before those. But, if you sit down and listen a few times, you'll realize it's still the same band, and you would likely have been disappointed had they merely re-released an updated version of an old album.