Lagwagon
Let's Talk About Leftovers (Fat Wreck Chords)
By: Howard Libes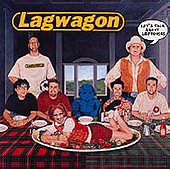 This album consists of seven tracks leftover from Lagwagon's last recording, but most of the material has either been released on 7-inch records and compilations or has been sitting around for years as unreleased demos and out-takes. The oldest tracks are 12 years old. In the liner notes, Lagwagon warns that "some of this album's recordings are bad" and many are "garbage." They admit that its "dumb" to release these songs but as they say in the notes, they want the listener to judge for themselves. So we have--and there are some pleasant surprises.

For instance, take a listen to the cover songs. The key to covers is interpretation. This is not an easy chore, but Lagwagon's renditions of "Bring on the Dancing Horses"(Echo and the Bunnymen) and "Freedom of Choice"(Devo) are extraordinary. Also, their treatment of "No One Like You" takes heavy-metal love over-the-top to sheer unadulaterated shlockiness. A beautiful thing.

Some of the songs formerly released on 7-inch records and compilations are standouts. "Randal Gets Drunk," a 30-second song, is a great bang for the buck and "A Feedbag of Truckstop Poetry", "Eat Your Words" and "Restrain" melodically rock. Of the unreleased tracks, the cello-laden "Brodeo" is a pure gem with its chorus of "No one here can sing your song / Just stand by the idiots and sing-a-long" and the songs "Jimmy Johnson" and "Narrow Straits" are notable. The unreleased songs from Trashed, Duh and the early demos are where Lagwagon's metallic past is unveiled and where Lagwagon's disclaimer begins to ring true. The songs become more metal as the tracks get older. They're passable at best for nostalgia sake and super-sweet guitar solos ala Wayne's World. But don't turn off the CD-player when the last song appears done. Wait through a few moments of silence, then the Blues-Brothers-intro music will lead you to a live Lagwagon performance which is well worth the wait.

Let's Talk About Leftovers is not for the uninitiated, but for those hard-core Lagwagon fans who will overlook the "garbage" for the standouts, the humor, the nostalgia, and especially those oh-so "sweet lixx." And isn't that what leftovers are all about?