SHOW REVIEW: SMP, Chris Connelly, Meg Lee Chin
September 7, 2002 -- Satyricon (Portland, Oregon)
By: Megan Jervis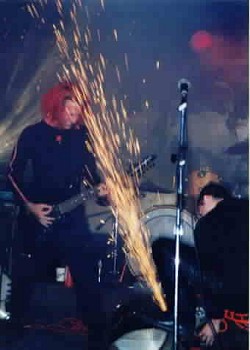 I honestly did not know what to expect when I was told that I was going to be reviewing this show. To my eternal happiness the night ended up being vastly entertaining. It was filled with excellent performances and many suprises.

Before the show started I went back and forth between Satyricon and Felini's, the cafe/bar that is located next door, because I quite honestly did not know what to do with myself. Inside Satyricon sitting on a stool in the middle of the lit up dance floor was Meg Lee Chin applying make-up. Since my name is also Meg (duh!) I introduced myself and we struck up a conversation. It turned out that both her and I used to live within blocks of one another in San Francisco, and that she actually knew of the street that I grew up on. I am a bit homesick so that in itself cheered me up! I know that reviewers always describe her as 'cute' because of her elfin appearance, but I would rather praise her extremely friendly personality. During the rest of the whole night she would make time to talk to her fans and it really seemed like she genuinely cared about what they had to say.

After Meg left the sticky floored room to find more light I wandered back next door and talked to the guys who make up SMP. Chris, the flame haired guitarist/drummer, told me a story about when they played the Dark Arts Festival in Salt Lake City. Apparently you cannot legally order a double shot of liquor there. Instead bartenders put a larger 'shot' into a bigger glass. Am I the only one that finds that a bit strange?

I found out right before the show that Omnibox broke up two days before the show so hence no review of them. Maybe they will patch things up?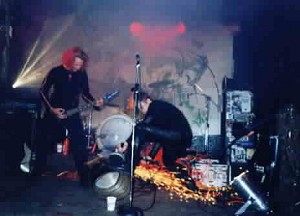 Sounds of Mass Production (SMP) are from Seattle, but don't let that scare you! Their original blend of hip-hop and industrial music got the crowd moving. The first heavy hitting SMP song was accompanied by Jason, the lead singer and mastermind of the group, pummeling a metal drum with an electric saw. For a few minutes it seemed like the high-flying sparks would catch something on fire, but it all went well! The whole set featured loud pounding drumbeats and guitar playing that mixed well with the keyboards instead of overwhelming them.
The only complaint that I have at all was when Chris threw a cup of water into the crowd and I got soaked. Don't worry. I was wearing PVC, so there was no damage! At the end of the set Jason asked if any of us had anything to say. I boldly strode up to the stage and proudly announced, "I got soaking wet!" If that isn't a positive statement about their performance I don't know what is!
Chris Connelly came onto the stage to perform next. His closely cropped hair totally surprised me as well as the fact that he was on stage solo with just a guitar in hand. I told you I didn't know what to expect! His first song was an audience request, which really showed what he thought of his fans. The audience packed against the stage as he played songs that reminded me a bit of the band Lycia. His voice is quite beautiful, which adds immense emotion to his guitar playing and that swept the audience up into his haunting tunes. His set totally made me think of him in a different light. After all, it takes a lot of fucking courage to get up on a stage and let everybody see you without a facade blocking the view.
Meg Lee Chin and her band stormed the stage next. Immediately there were sound problems involving her voice pedal, among other things. The difficulties could have darkened the performance for an audience of lesser mortals. However, the crowd didn't seem to mind in the least, and constantly assured Meg that everything sounded good. The vibe of the show was that tremendous! Song after song she jumped about the stage in a plaid, safety-pinned dress hitting her high notes without missing a beat. In between songs we were told about how their equipment trailer got smashed in an accident and other travails that had plagued the band since they started the tour four days previously. Shit! Also, during one of the technical difficulty breaks the scratch-artist asks a very pertinent question, "Is this place always so sticky?" If you have ever been to this "the Longest Running Music Venue on the West Coast," then you just have to laugh at that! The sweetest part of the set came when an audience member told Meg that it was his friend Joe's birthday. She sang a warped, and creepy version of the 'birthday' song and then jumped into the audience to rhyme a song. When it all came to an end, I have the feeling that I was not the only exhausted person in this humid club!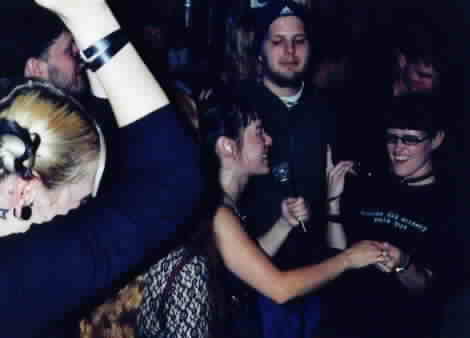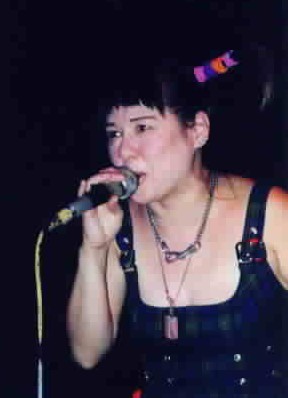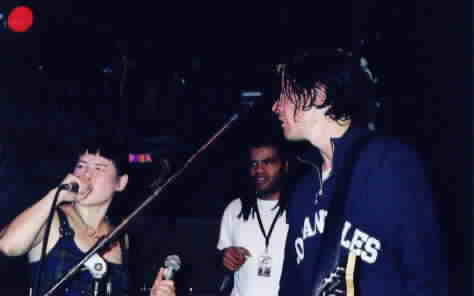 As the floor cleared, I got a chance to talk to Chris Connelly. I asked him if anybody had given him any shit for performing a set solo. Basically, his reply was that nobody had, and if they did that they would 'get it', because he wasn't a "sissy". It's nice to know that some things don't change!
If you happen to be in an area where any of these bands are performing, I suggest you check them out. You risk damnation, and missing a great show if you do not attend.