INTERVIEW: Second Skin
Halloween 2002 (The Dead Stars)
By: Jett Black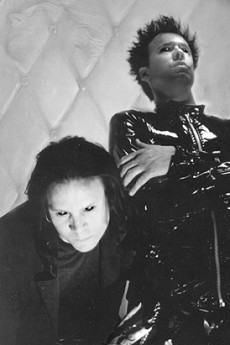 Darkness falls upon Halloween 2002 like jilted angels from a neglected Christmas tree in an old abandoned home. Second Skin hails from the dry heat and the American desert community of Arizona, bringing with them now the burning aroma and vocal elegance of fallen angels to new independent film and cds this year with plans for additional cinematic infusions on the way.

And now, Arron of Second Skin speaks about new film "Liberata Me", plus new releases available by Second Skin.

IMWT: Tell us about "Kiss The Night" and "Tales From the Vault 2".

Arron: Well, "Kiss the Night" is a Cleopatra Release.... and this compilation looks and sounds great! It's an ORIGINAL collection of Love with a very nice twist. This will be one to own. Then there's "Tales From the Vault", an Alligence Records brain child, with a mix of many different styles, so if you're not hung up on drummer v.s drum machine, Goth v.s Industrial, and everything in between you will really like this! Hector @ Alligence has put together songs by us, plus Screams for Tina, Seraphim Shock, The Last Dance, Kill Sister Kill, Killing Floor, and Usherhouse to name a few.

IMWT: Tell us about new music from Second Skin including "Black Eyed Angel" and "Choir Invisible".

Arron: "Black Eyed Angel" is the latest installment for Second Skin. It is the album from which "Flesh Wounds" remixes derive. "Black Eyed Angel" is Hard goth/deathrock evolved. Second Skin's "Choir Invisible" can be found on almost all major on-line stores. The new album is in the hands of a few great European labels, and we hope to make an announcement soon.... Once this is resolved, "Black Eyed Angel" should be everywhere the dark at heart shop within the next few months. Check for News announcements at our website.

IMWT: What is the buzz about "Liberata Me"?

Arron: "Liberata Me" is a short film based on a guy who commits suicide but doesn't die. He is instead forced to live life over again, and make the right choices. It turns into a Twilight Zone kind of thing at the end. Very slick job by Director and Friend Pearry Teo. The film was produced by a handful of producers and believers. Second Skin provides the title track and other music throughout the movie. You also get a glimpse of us in the infamous club scene. The video for the movie comes in the form of a mpeg file on our "Flesh Wounds" disc. Pop it in the computer after you listen to it, and you're instantly interactive.

IMWT: How can readers view and own a copy of the film?

Arron: The Film is making the rounds to all the major film festivals, and has just won best short subject at the New York Film Fest. "Team Doom" on the jumbo tron in Madison Square Garden!!!!! After all the festival premiers, it will be made available with another film that is in the works. I have been appointed Music Director, soon I will make a post about soundtra ck music submissions.

IMWT: Alligence and 11 mhz Productions - What do they do for bands like Second Skin?

Arron: Alligence Records strives to put all types of Dark music into the spotlight. I think of them as the old Punk music labels. They don't care about what you've done. It's about what you are doing for yourself, and is your music worth a chance. There have been some real gems in this series of compilations thanks to Alligence Records. And 11mhz is their partner in crime this time around, with Mando's $ backing $ and patience, this disc was helped along, and able to be uncompromising. They are working on a website now. If you go to our site www.secondskin.net then you can order the disc now. You will be able to buy it on-line Halloween 2002!

IMWT: What are "Horror Deluxe" & "Nephilim Network" and where are these entities located?

Arron: Both of these little spooky nuggets hail from Texas. "Horror Deluxe" is a what's old and new in Texas meets Gothbabe, and get eaten by the devil while burning the rubber road to freedom on the wheels of a monster truck. The "Nephilim Network" is a group that puts on some of the best events I've been to in years, Gothic and otherwise.

IMWT: What gigs does Second Skin have planned around Halloween this year?

Arron: Second Skin will be doing the "Vampire's Ball" in Long Beach this year, maybe doing "Brick by Brick" in San Diego and then, we will be coming home to play at Requiem.

IMWT: Where has touring taken Second Skin this year?

Arron: The 2002 tour took us up to the East coast, down into the Bible Belt, across the swamp (New Orleans!), and then home. It was cut a little short as we meet a drunk red-neck who ran his moster truck into our Hurse... two great taste that don't go so well together.

IMWT: What does Second Skin have lined up for fans between now and next summer?

Arron: There is really a lot not yet on the website. We are going to start production on a feature film, shoot a new video, TOUR, start a new album, put out a song on a Halloween disc from the great German Label Apollyon! You can pick up the Halloween compilation our website. We are also working on an Elvis song for Cleopatra Records.

IMWT: What do readers need to do to find out more about Second Skin and to make contact?

Arron: You are more than welcome to e-mail us with any and all questions. Our website is the best source. We thank everyone for their loyalty and support.