INTERVIEW: The Dead Stars On Hollywood
Unleashing Anthems for the Friendly-Fire Generation via Apocalypstick, UK
By: Jett Black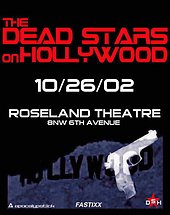 Kneel (Ground Control) remains busy with music details and productions which consume days and nights like the strobe-light effect of all that he has spinning about between Hollywood, California and Portland, Oregon.

I recently learned that Kneel does work in music production with other musicians and that among many other details, he contributed a remix years ago to one of my favourite recording artists, COLLIDE on their remix album entitled Distort.

Having also recently review their latest release, I can say that The Dead Stars on Hollywood is certain to be one of the MAIN attractions this year at the Queen of Halloween Ball (Oct 26th at the Roseland) where GWAR will be headlining. 6 bands, 5 cabaret entertainment attractions, 10 Go-Go girls dressed up in ghoulish costumes, 4 dj's, a COSTUME contest sponsored by COORS LIGHT and METRO CLOTHING, plus lots of prize giveaways throughout the evening.

Portland Locals T.J. Hamilton (bass, backing vocals), Jef Warner (guitar, backing vocals) and DJ Gino Mari (synth, backing vocals) team up with Kneel Cohn (vocals, guitar), and Troy Stutzman (drums) to form The Dead Stars on Hollywood.

Amid all the Hollywood mayhem of cutting room floor cinema, flashing bulbs, nightclubs and car crashes, Kneel responds to the buzz from In Music We Trust...

IMWT: Portland, or Los Angeles? Where are the Dead Stars on Hollywood actually located?

Kneel: Troy and I maintain residences in both LA and Portland, the other members Jef, T.J. and Gino live in Portland. Our management also works out of LA. So I suppose you could say it's a nice combination of the two.

IMWT: What plans do Dead Stars on Hollywood have for bringing in Helloween?

Kneel: We're performing at the Roseland Theatre in Portland at the Queen of Halloween Ball on October 26th.

IMWT: What's the story? How did Dead Stars on Hollywood come into being?

Kneel: The Dead Stars combine all the elements of songwriting, instrumentation, style and presence I've been trying to achieve ever since I started seriously working in music. I had a sound in my head about 12 years ago that seemed impossible to create or reproduce because I hadn't ever heard anything that sounded quite like it before. Like a 21st Century "Marc Bolan and T-Rex". Combining glam, rock and electronics. I called it "future rock".

I started working on some tracks about 5 years ago that best expressed this sound I was trying to invent. Initially this project was called "Strongbox" which was basically me performing all the parts of the songs I had written in a recording studio. I got some interest from a British producer who had previously worked with Damon Alburn of Blur in London. Soon after, two studio singles were recorded and I started getting major label attention and press, both in the UK and Stateside.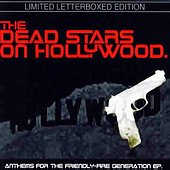 Subsequently, I was pursued by a music supervisor at New Line Cinema in Los Angeles to provide a track for a film called "Blast" they we're working on. The song "Prozac Smile" became the track they needed to complete the scene. I was even given a small cameo / extra role in the film which was a great experience to say the least. Things started to take off but I knew all along that I needed to find the right players to form a group with who could enhance and take to the next level the madness that the method created.
That concept and vision turned into The Dead Stars On Hollywood and the current members of the group.
IMWT: How does cinema play an inseparable role with the concept and mission of Dead Stars on Hollywood?
Kneel: Cinema has always been a fascination of mine is a very persuasive and theatrical art form. An amazing combination of story line, scripted dialogue, acting, visual aesthetics, set design, special effects and sound all come together to create an incredible and powerful media. The Dead Stars combine a lot of these elements to truly envelop and entertain the listener, seeing us perform live really bonds the whole concept together.
IMWT: Please describe highlights of Dead Stars on Hollywood opening for PLACEBO and IDLEWILD. Same tour? Different tours? What did you enjoy most about these live performances?
Kneel: Playing with different groups is always a wonderful learning experience ... different personalities and performers getting together to put on a show.
Sometimes it can be a success personally getting to meet your peers in the music industry and at times you're even face to face with someone whose talent you've admired for a long time... it still seems a bit surreal to me.
Other times, unfortunately it can be a train wreck and nobody gets on well...by the end of a tour guys are calling each other "cunt" (can I say that?) and that's the truth sometimes behind the facade of glamour but to me the opportunity of each performance matters more than anything else. As they always say, the show must go on.