Johnny Cash
Silver (Sony Legacy)
By: Alex Steininger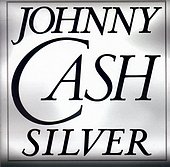 Originally released in 1979, celebrating Cash's 25th year in the music business, Silver, recently re-released by Sony Legacy, is a fine demonstration of Cash's ability to stay contemporary and cutting edge even while trends were dying and new ones cropping up. It is also proof to the rich history and legacy Cash has set forth, a bookmark in a career reached by very few.

Silver features a guest appearance by George Jones, and includes two bonus tracks ("I Still Miss Someone" and "I Got Stripes", both featuring George Jones). The album finds the elder outlaw countryman living up to his nickname, The Man in Black, as his hard luck, working man persona comes through in every word he sings and note he plays.

A hidden gem in Cash's catalog, the re-release of Silver helps ensure longevity and a new audience for this timeless classic. I'll give it an A+.