Jack Hayter
Practical Wireless (Absolutely Kosher Records)
By: Alex Steininger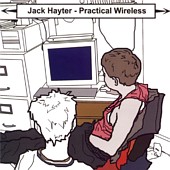 The first thing that grabbed me about Jack Hayter was his stripped down, acoustic folk-country rendition of The Only Ones' "Another Girl, Another Planet". His delivery mirrors that of Peter Perret's. Both are very heartfelt and honest, Hayter earning extra points for taking a song written by someone else, something that someone else experienced and cared to sing about, and making it his own, sounding as if he wrote it and means every word he sings. When he proclaims "I'm on another planet with you," you believe he's coming from the same headspace that fueled Perret.

The rest of the album is equally compelling. Hayter with his guitar and voice, creating melodic, pop-structured fragile folk songs that barely blow by, crawling from note to note, as he sings like a man at the bar that just wants to get what he has to say off his chest while sipping some whiskey.

At times he sounds melancholy, other times tired, but always optimistic, going song to song, making you feel his words as he lightly picks and strums his guitar for sparse accompaniment, as if he is doing it merely to keep his stories company.

One thing is for certain, the guitar is Hayter's friend, and he clings to it for support, singing his songs and backing them up with light guitar, with the occasional addition of percussion, traveling down life's far too traveled road and reminiscing on his adventures. I'll give this an A-.