INTERVIEW: Kim X
Label Mistress of COP INTERNATIONAL (Cop International)
By: Jett Black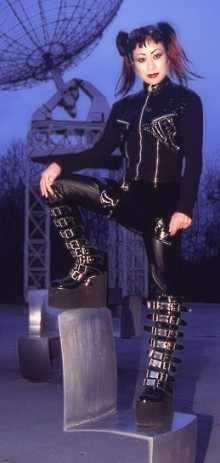 Welcome to the wonderful world of COP International (Electro/Industrial), and associated labels: 23 Frankfurt (Trance); TranceForce (Progressive Trance); Liquid Space (Electronic Ambient, Chill Out); ttt (House).

With DDT, COP Int'l introduces rapidly expanding new distribution and already has over 700 items!

All these lables are engaged in the exploration of the electronic music universe - diverse and determined to expand the boundaries of music and the human mind to embrace the evolution of electronic dance music.

Cop Int'l officially open for business to new music collectors in 1991, and then launched on-line circa 1993.

COP is the implementation of a very iealistic vision, a pure product of the punk philosophy, of the "do it yourself" (because nobody will do it for you!) attitude.

Mission: To Question reality, challenge music with technology, and to create a viable international platform that would bring exposure to unknown bands, whose talent and originality transcend the industrial/electro/goth archetypes.

Tune in, now, as Label Mistress and Chief executive, Kim X spins away from her computer office desk momentarily to respond to a few quick questions....

IMWT: How did you develop an interest in starting the Cop Int'l music label?

Kim X: Love of music, frustration with the male dominated scene, foolish idealism...

IMWT: The very idea of starting a music label seems daunting to me. What did you not know when starting Cop Int'l that you wish you had known then?

Kim X: Actually, at the beginning, my partner Christian and I, didn't really know what we were getting ourselves into. We had just found a couple of bands we thought had great potential and we just wanted to put out great new music and share it with the rest of the world. We didn't have a business strategy per se, we just started putting cd's and got lucky enough to find a national distributor right away. Times are very different now. Today, it would be impossible to start a record label because the whole distribution infrastructure has become so monopolistic.

IMWT: What are some of the things you have learned from operating a music label over these years?

Kim X: Two things:

First: Never stop fighting for your dreams
Second: Don't give up your day job!

IMWT: Who was/were the first recording artist(s) to appear on Cop Int'l?

Kim X: Battery who, at that time, were pioneers, being one of the very first female fronted electro-pop bands.

IMWT: I met you on tour with Deathline International the past two seasons that they have stopped to perform at The New Paris Theatre in downtown Portland, regon. How often do you accompany artists on tour?

Kim X: Only occasionally since at this time, very few COP bands perfom live. I really enjoy being tour manager because it allows me to finally meet a lot of the people I have been in contact with through the years. It is also lots of fun to check out the scene in other cities and it gives me a perfect excuse to get away from my computer:) Plus, the Deathline boys are such a blast! The band is awesome live and their after-show parties have become sort of "legendary"... they definitely would be a great subject for a documentary. Anyone interested? Actually, I am planning a Southern tour for Deathline in December (LA, San Diego, Phoenix, Texas, New Orleans, Atlanta, Florida...) Check out for more details on our website and try to catch one of their shows because they are really amazing, also, you'll get to meet me in person since I'll be the touring manager!

IMWT: What merchandise do you routinely make available to fans who attend the live music performances?

Kim X: I carry the whole COP Catalogue (about 70 titles), plus about 300 top-selling titles from my DDT catalogue, our distribution branch which specialized in German imports from independant labels such as Hands, Flatline, Nova Media, Wire, Bloodline, Scanner, Strange Ways, etc... plus hard-to-find German print t-shirts. Basically, I try to bring the best representative samples of my on-line catalogue.

IMWT: You help so many musicians reach audiences online and at live music venues across the world. Tell us, what do you get back in return? What are your personal rewards?

Kim X: I am just happy to see talented artists get the respect and recognition they deserve. It is so wonderful to know that if it wasn't for you, their music might not have ever been made public or the band would have broken up without your constant encouragement and faith. As far as financial rewards, anybody who knows a little bit about the music industry is pretty much aware that they are meager if non-existent. I still have a part-time job to help pay the bills. The fact that we are still alive after 11 years of struggling and fighting the odds is an accomplishment in itself. My greatest pride resides in the reputation of integrity that we have acquired within the musical community through all those years.

IMWT: How do you get involved with the music and fashion and cultural scenes of Hollywood?

Kim X: Somehow the words "culture" and "Holywood" seem such a contradiction :) Talking about fashion, I would like to expand our online shop to include high-quality custom made pieces such as corsets and jewelry and I am currently talking to several artists.

IMWT: What struggles does Cop Int'l deal with on a routine basis?

Kim X: Same as everyone: shortages of money and time! Frankly, I don't want to get into the gritty details since they are the same problems shared by any other small businesses... There is no glory nor glamour there:)

IMWT: What do you consider to be most supportive of Cop Int'l within the overall music scene?

Kim X: DJ's (radio/clubs), promoters, reviewers and journalists. I have encountered some many awesome people (too many to name personally) but I am infinitely grateful to each and every one of them for helping us spreading the COP credo. We couldn't have made it without their help.

IMWT: What do you believe undermines progress for Cop Int'l?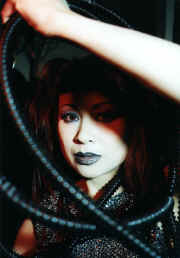 Kim X: I think that one of the reason could be that our musical taste is a little bit too off-beat. We love to represent the musical "underdogs", the bands that don't fit in any definite genre because they are a whole category of their own. Originality is very hard to sell, people are usually looking for something that sounds familiar... A while back, I remember a detractor criticizing COP because he said that you never knew what a COP cd would sound like. Personally, I took it as a compliment. I think that it is great that we are ecclectic and challenging in our musical approach.
IMWT: When you tour with musicians, how long does this keep you away from the office?
Kim X: I have to limit the touring to a maximum of 2 weeks because when I am on the road, I have to shut down the COP office, which is not good obviously. I wish I could go on the road for a longer period of time because it is sort of working vacation for me.
IMWT: Who takes care of operations while you are on tour with musicians?
Kim X: No one, that's the problem.
IMWT: How many new music releases have come out of Cop Int'l since it first took form?
Kim X: About 70.
Labels distributed by COP/ DDT include:
* ANDROMEDA * BLACK CHANNEL * BLOODLINE * CHROME * DAFT * FLATLINE * GALAKTHORR? * HANDS * MEMENTO MATERIA * NIGHTBREED * PRO-NOIZE * SCANNER * STRANGE WAYS * SSC/Sweden * TCM * NOVA MEDIA * WIRE * ZOTH OMMOG *
IMWT: Who have been the best-selling artists on Cop Int'l?
Kim X: Dive, Birmingham 6, Will, Battery, Deathline, Index and our rising star, Soil & Eclipse, whose much-awaited 3rd album "Purity" is to be released this Fall. Also, amongst our best-seller is our flag-ship compilation series: Diva X Machina which features exclusively female fronted bands.
IMWT: How do you determine which artists will become a part of Cop Int'l and which ones simply do not qualify?
Kim X: As I mentioned before, originality is the most important factor. We are looking for bands who have something unique to say and say it with passion and sincerity.
NewMusic includes:
Dark Awakening vol. 2 compiled by Dirk Neveling
rUnterkommen.com Compilation mixed by Ziel100 powered by XXL/vestax
Rhythm Culture part 1 mixed by DJ Weichei powered by Access & Steinberg
Chillum Dreams II Compilation, powered by Hanf Journal
Clubmission 2 mixed by Jay Frog powered by radio-unity.ne
Inner Space III mixed by Andy Bolleshon
Dreamasters ft. Harika - Dunkle Nacht, incl. Niels van Gogh Rmx
Battlecats - Niemand, incl. Terra C mix, Felix
Kracher Mix (Sunshine live)
streetmove 2002 powered by Steinberg, T- Mobile, Volksbank & Vestax
IMWT: How has Cop Int'l extended its reach out further to music fans in Europe?
Kim X: Our main office branch is actually based in Germany. This is where we manufacture our cds. So we are constantly working on 2 different markets simultaneously.
Upcoming Releases Include:
Soil & Eclipse "Purity"
Chiasm vs. Threat Level 5
Oneiroid Psychosis - back catalog
Lengo - Memories
Carma Culture - asian beats by Christian Arndt (exil music)
CO2 Vol.2 Compilation, mixed by Markus Schaper
powered by XXL & Steinberg
Metro Collection Two