Matt Skiba & Kevin Seconds
Split CD (Asian Man Records)
By: Alex Steininger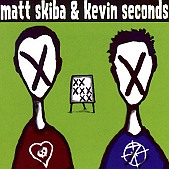 Emo darlings Alkaline Trio's Matt Skiba teams up with punk legends 7 Seconds' Kevin Seconds to deliver a split CD of acoustic pop as the two explore their softer, singer-songwriter sides.

Matt Skiba's five songs are rooted in the emo-pop-punk that fuels his band, however, led by the acoustic guitar, are deprived of the noise and volume that propel Alkaline Trio's songs. Surprisingly, not a problem, as Skiba's lyrics and quite emotive voice carry the songs as his fast strumming and light instrumentation fill out the songs, giving them the bite they sometimes need, without the noise.

Quite melodic, Skiba's ability to write an acoustic pop song is showcased here, without any doubt to their integrity. This is pure, lively pop music that wears its heart on its sleeves, shining with every beautiful flaw, using them to the benefit of the music, adding a raw, near-live aesthetic to each song.

Skiba's cover of 7 Seconds' "Soul To Keep (For Phyllis)" gives new meaning to the word punk, as he strips the song to its bare essentials and turns it into a melodic ballad.

Kevin Seconds' five songs pick up the pace a bit, as he delivers songs about failed relationships, using bouncy pop to deliver sad and angry songs in a rollicking platform. Seconds capitalizes on the contrast, making you smile as you sing along and tape your feet to the infectious, hook-laden compositions.

Seconds' last solo record, Heaven's Near Wherever You Are, helped establish him as a versatile songwriter, a man who can write bouncy pop songs.

His five songs on this split CD continue where Heaven's Near Wherever You Are left off, with Seconds writing full-band songs, playing all the instruments himself, having a good time, expressing himself, and stretching other's perceptions of what he can and can't do.

Some may say age has mellowed him out. After all, twenty-three years of punk rock would leave anyone craving something more. Though Seconds does crave more, and fulfills it here in fine form, he still hasn't lost his rock edge, with these pop songs still offering a kick. But, for those longing 7 Seconds, you may not find that kind of kick here, but there is plenty spice to keep you from growing tired of these 'pop songs'.

Both artists step up to the plate and deliver. This is a solid collection of acoustic pop songs you'll dig. I'll give it a B+.