Loudermilk
The Red Record (Dreamworks Records)
By: Alex Steininger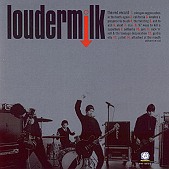 The punk-inspired melodic hard rock of "Estrogen Oxygen Aches In the Teeth Again" starts of Loudermilk's The Red Record with a bang. Loud and combustible, the band has the flare that other modern rock bands are missing, and the substance others dream of. But, they have the only good things that today's radio offerings seem to be able to muster up - Loudermilk has solid, well-produced, hook-laden songs that get stuck in your head.

When songs like "Ash to Ash", the soft mid-album ballad, and "The Twisting", a crunchy, twisting rocker, hit you, you'll be more than glad to sing along. And songs like "Elekt" and "97 Ways To Kill A Superhero", another ballad, will prove that this band is versatile, able to go from a loud modern rock moment to a soft pop song without losing you.

Though they have their nu metal moments, and generally play to the modern rock crowd, Loudermilk can write a tender pop song and turn around and kick you in the ass. This is a rock band with chops. The artwork makes them look mod, but they're not. Still, they don't do rock any major injustices. I'll give this a B.