Hasil Adkins
Out To Hunch (Norton Records)
By: Alex Steininger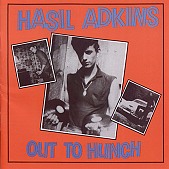 Recorded between 1955-65, Hasil "Haze" Adkins' Out To Hunch was finally released in 1986 by Norton Records, who are re-issuing the LP for the first time on CD. Adkins, known for his Poultry In Motion, released in 2001 also on Norton, an album all about poultry and sexual innuendoes, gives us more of his perverted mind and wild antics with Out To Hunch.

A bunch of lo-fi, poorly recorded rockabilly-meets-swampy-blues songs that, as Adkins puts it, "didn't try to be primitive. [He] just had bad microphones", Out To Hunch is equal parts Elvis Presley, Chuck Berry, and Jerry Lee Lewis.

This is rock 'n' roll doused in gasoline, set on fire, and then performed live, the flames kissing the guitar strings as magic is made, the heat and passion coming together to make some of the finest, if not rawest rock 'n' roll ever heard. This is what is meant when the words rock 'n' roll are muttered. I'll give this an A+.