Eric Bachmann
Short Careers - original score for the film Ball of Wax (Merge Records)
By: Alex Steininger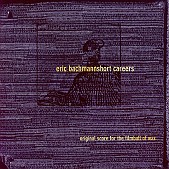 Twelve instrumentals written, produced, performed, and arranged by Crooked Finger's Eric Bachmann, Short Careers is the original score for the indie film Ball of Wax.

Blending elements of pop, orchestral, and soundtrack, Bachmann creates a tension building, thrill ride soundtrack. An exciting, breathtaking composition of lush, fragile, and weepy numbers, songs that make you believe you understand the plot of the movie and its dialogue, without ever seeing the movie (of which, I haven't, nor have I heard of the movie).

One thing is for sure, the same deftness that goes into writing a Crooked Fingers song for Bachmann is displayed here, with Bachmann putting every once of himself into each song. A rich soundtrack that will have even those who hate instrumentals salivating. I'll give it a B+.