Dave Pirner
Faces & Names (Ultimatum Music)
By: Alex Steininger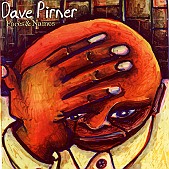 Best known for fronting the chart-topping influential Minnesota rock outfit Soul Asylum, Dave Pirner has never stepped out on his own in the band's twenty year history. While the band is taking a break, Pirner thought it was time to take a stab at a solo album.

Faces & Names finds Pirner testing new water and taking chances, something most front men don't do on their solo albums, let alone their first solo album. Luckily, Pirner doesn't just blindly dive into a bunch of styles. Rather, he centers it all around mid-tempo, mellow pop, ensuring no matter what style he's toying around with, you can be assured you'll get a warm, relaxed melody running through the song and a hook or two to chew on.

Faces & Names was influenced by Pirner's relocation from Los Angeles and Minneapolis to New Orleans. Which makes a lot of sense when you hear songs like the soulful "Feel The Need", the near-adult contemporary "Someday Love", the funky "364", and the jazzy "I'll Have My Day".

Though, it is the straight-ahead pop and lyricism of the title track that makes Pirner so memorable. The song builds and builds, making you feel as if Pirner is leading you to a dark place. Right before you turn the corner and hit the chorus, your stomach turns in knots as you think of a million different things Pirner can hit you with. Anti-climatic, to the benefit of the song, Pirner hits you with little more than a tired, almost defeated voice when he states, "The only things that have changed are the faces and the names".

Instead of disappointing you, he has you eating out of his hands, giving you what you'd never expect and, surprisingly, making it sound so inventive, whereas other musicians would come off sounding burnt out and desperate.

Pirner's debut solo album is not Soul Asylum. He uses the album to breathe new life into his music, something he couldn't have done with Soul Asylum without alienating fans and their back catalog. Though, the record is Pirner through and through, and you can hear Soul Asylum deep in the songs. Stretching his wings and doing a fine job at it, Faces & Names is a solid effort from a memorable songwriter. I'll give it a B+.