Butthole Surfers
Weird Revolution & Humpty-Dumpty LSD (Capitol Records)
By: Jake Beamer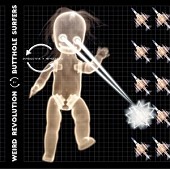 As many know, the infamous Butthole Surfers have been around since the early 80s and have been a staple in the psychedelic/weird/alternative/call it what you like scene of then and also since. Gibby Haynes (lead singer) and his band of miscreants have been scheming all over the world.

From their first self-titled EP in 1983 up to their latest full LP release Weird Revolution in 2001, and beyond to the recently uncovered 2002 compilation of b-sides known as Humpty-Dumpty LSD, the Butts have really made a name for themselves.

I will attempt to cover the bases of both most recent releases.

After 1993's Independent Worm Saloon came out, the well-polished farce of metal, blues and more, I thought it would most likely remain my favorite Butthole Surfers album. I have been right, for the most part, although Weird Revolution and Humpty-Dumpty are no small feats.

Weird Revolution began conception as an album entitled After The Astronaut but there was so much disarray and squabbling between band and record label over the recordings that the push to release the material was all but given up for a good while. ATA came out only via bootleg mix versions, while although good, it wasn't a finished project. There was always a huge amount of speculation as to songs, order, and the original cover art to what was to be After the Astronaut was stolen by the record company and given to Marcy Playground.

So after all this, a normal band wouldn't have survived. But the Butthole Surfers are NOT a normal band. They tallied up the dead and threw together the best synth-rock opus that this world has seen in a while. The Weird Revolution was the result. Many songs from ATA are included, in new versions and such. In some cases friends of mine would contend the original mixes/versions were better.

But I enjoy Weird Revolution thoroughly. There are high and low points; the mangled Malcolm X speech in the beginning, plus Kid-Rock fused first single "The Shame of Life" -- and second pop-satire catchy-as-hell single "Dracula From Houston" are amongst these. Also included is "They Came In" - which was on a Mission Impossible soundtrack of yore, and great cuts like "Jet Fighter" and perhaps my favorite, "Intelligent Guy". There are so many more songs that I'm not even mentioning.

As for Humpty-Dumpty LSD, the rarities/b-side compilation released earlier this year, I would highly reccomend this record for mostly die-hard fans only. There are some really wild moments, like the rocking "One Hundred Million People Dead" (a longer version of the song that appeared on the P.E.A.C.E. compilation), "Day of the Dying Alive" (what would eventually become 1988 album Hairway To Steven's "Jimi") or an outtake from 1994 entitled "Dadgad".

It's actually quite a good selection. With luck, the Butthole Surfers will keep messing with our minds for many years to come. Gibby LIVES.