Filter
The Amalgamut (Reprise Records)
By: Alex Steininger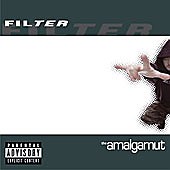 Richard Patrick and his musical vision, Filter, are back at it again with The Amalgamut. An album that celebrates the differences and similarities of America - of life - with the underlined message that we're all free and that we're all Amalgamuts, because America is truly a melting pot and land of diversity.

The first single, "Where Do We Go From Here", is hard, screaming modern rock blended with Patrick's ability to infuse pop and melody into the loudest of the loud. It has ensured that The Amalgamut is quickly on track to earn platinum status like its two predecessors - 1995's Short Bus and 2000's Title of Record.

"Columind" shows that Filter has not lost their edge. A crunchy, burning metal song fueled by Patrick's bleeding vocal talents, the song doesn't stop, cranking it out at top volume for three and a half minutes.

But "Columind" is not the only pure hard rock song on the album. "So I Quit" tramples all over you as it goes full speed ahead with the metal, Patrick's melodic infusion reeling you in during the chorus before the assault of the verses once again plow you down.

Patrick's songwriting has matured, too, but not to the detriment of the Filter brand. "The Missing" starts out slow, building up to the melodic rock of the chorus. "The Only Way (Is The Wrong Way)" is an acoustic pop song not unlike "Stuck In Here", found on Filter's debut, Short Bus. However, unlike "Stuck In Here", "The Only Way (Is The Wrong Way)" bursts into full band rock, this time like "Take A Picture", off of Title of Record.

Now, Filter has always been known for their ability to scream and blast out hard rockers and then turn around and make you sit back with a soft song or two. With The Amalgamut, Patrick has found middle ground, delivering the band's trademark hard rock coupled with the softer side in the same song, something he did with the hit "Take A Picture" to some extent.

Patrick does all of this without giving up on the rock and without forgetting his roots, ensuring that no fans are alienated in his quest to grow and expand as a songwriter. The songs on The Amalgamut retain the edge Filter has always had while better infusing melody and hooks into the power. Patrick has raised the bar for himself and nu-metal here; I'll give it an A.