SHOW REVIEW: The Studly Husband Rubbings
Sunshine Room - Tamarac, Florida
By: Jake Beamer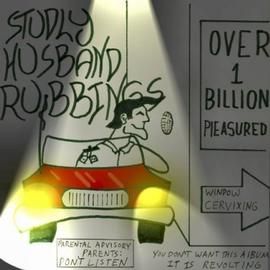 There is one phrase that comes to mind when I think of the Studly Husband Rubbings, and that is absurdly profound. Known as "S.H.R." to their crazed and loyal fans, they are truly amongst Hollywood's (and possibly all of Florida's) weirder bands and all-around showmen. A performance by the avant-garde duo of S.H.R. is truly an event to behold - something quite unique.

Quite a few months ago, I was sitting in the grimy corridors of what was once Tamarac, Florida's 'Sunshine Room' when the Studlies took the stage. Firstly, the "stage" was adorned with various fake trees, plants and such, plus there was a huge 3-panel banner for the band, made from what looked like old cut-up magazines. Their logo appeared to be scrawled hurriedly in dried mustard. The first thing the show involved was several actors performing an odd sketch about a pantomime horse, then many cheerleaders stormed the "indoor scenery" of the Sunshine Room and began shouting politically-slanted cheers. I was already curious about this band before they even played a note!

Finally the band emerged, and without really saying anything, broke into the first of what would be countless short, catchy and irreverent pop tunes of the night. What I noticed first about their songs was that it was hard to attach a genre to the group. Every style of music, from jazz to punk, techno, folk, hip-hop, blues, metal and even barbershop quartet-styles were covered, as insane as that sounds.

The two (and only) lead men of the "band" are named, respectively, "The Geek" and "The (Stone Cold) Puppy". Both were dressed in odd garb, thus rendering each members' true identity totally unrecognizable. The Geek had a football type uniform and helmet, dark sunglasses and a long (fake? I assume) beard, while The Puppy was wearing a full suit of armor. Truly a strange sight.

The songs of the night were wholly catchy numbers including "Caterwauling" (about cartoon dogs and cats in love), "Our Pal Jeff" (about Mr. Dahmer himself), and the sick but infectious singles "The Ferocious Call Of The Lemming" and "You Bet" from their semi-debut (they have released a variety of their home recordings via what was once Prospect Records but has now evolved to become Overlooked Creations) record Making Things (available on their tour and still available for purchase at their website) --- and songs covering other raunchy but surprisingly insightful topics. The music is almost reminiscent of Butthole Surfers, or even artists the Avalanches or Le Tigre, but perhaps less refined and overall rather pop. I wasn't sure, at the end, whether to laugh, or to mourn the state of this modern world. The music just really makes you think.

So, if the Studly Husband Rubbings are ever in your home town, do not miss this intensely ridiculous cultural phenomenon.