SHOW REVIEW: The Necrophiles
Culture Room - South Florida
By: Jake Beamer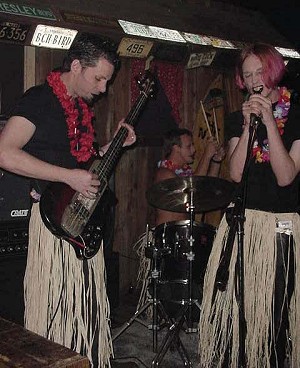 I would simply write a review of this band's incredible disc, but I don't feel that would do them justice after seeing them perform live. Let me first describe how this happened.

I went to see my friends' band Broken Idols perform at the Culture Room in downtown Lauderdale. Broken Idols are great, like industrial-pop (review forthcoming!) and I noticed the Necrophiles were listed on the flyer as "the late show". I figured they were a band in the same basic vicinity as the Idols. To say I was unprepared would be the biggest understatement of all time.

Once the Idols had left the stage and I was helping them pack up their gear, the Necrophiles, who were loading in, said the set was good and asked if we were staying to see them. I told them of course. After coming back in the club, what sight met me but a rather barren stage with only a bass guitar and some amplification on the left, a keyboard on the right, drums at center, and most interesting of all, a full-size surfboard in front of the drum riser that simply read "the Necrophiles". Surf/rockabilly I'm thinking to myself. Especially after I see the (lead guy?) come put on his bass - slicked back hair and pointed sideburns.

So the Necrophiles take the stage and begin to wail. It is kind of surf-ish, the drums maybe, and the guitar sound.. yes, guitar effects and tone were being used on this guy's bass. Incredible. Blues were flying around me in all direction. It was gutsy, it was soulful.. the bespectacled keyboardist was pounding away at all kinds of samples, and then. A mostly-topless dancer emerges. This girl is wearing nothing but a small black thing (can I call it a skirt? probably not..) around her lower section.. and over her upper section, merely tiny pieces of what was probably latex right over each nipple. Again, interesting I thought to myself.

The night was only beginning. This girl would come out and dance to the Necrophiles' more upbeat numbers, and the slower ones were dark, moody and almost gothic. No vocals! Fabulous. The mic in front of the (bass..itarist?) was merely for slight, low-key crowd interaction and announcements of what was generally going on. Absolutely amazing. I sat there slack-jawed most of the show, astounded at what an atmosphere these guys created.

And I know what the reader of this will say, they will say "oh, you only liked it because of the mostly naked girl, as with the rest of the people in there". And I will reply that perhaps other people were only hooked by that, but I saw a tight group of innovative musicians who really wowed me with a new kind of music. I was totally blown away - as anyone who lives here knows, incredibly rare in this town, music scene, and genre. Meaning rock music. So yes, I hassled the guy (Ed, drums) afterwards for one of their records. He gave me one, signed it and gave me his contact info. He also told me he is moving soon (end of May) but will return a bunch (with luck!!?) to play with this band.

All I'm going to say about the album is this, quite simply. I just listened to all eleven tracks. All the way through. Twice in a row. And it's now 3:10 a.m. and I'm trying to resist listening to it again. Yes, it is DAMN FREAKING ALMIGHTY GOOD. You need to get one of these albums at any cost. You have to experience how the spacey minimalistic atmospheric mood they create just completely envelopes you.

I hope everyone is prepared to have their musical souls saved by the Necrophiles.