INTERVIEW: Grigori 3
An interview with Grigori 3 bass guitarist, Drew Turnbaugh
By: Jett Black
Photos By: Sean Strauss


Portland, Oregon attracts many musicians to visit, soak in the primo brews, great music, and good times. Drew Turnbaugh, no stranger to Portland, Oregon, recently returned to visit friends and family, and together we made plans to drop into the Kennedy School McMinniman's Restaurant on 33rd Ave to wet the whistles and exchange news within the industry. Drew touches upon the development of Grigori 3, his involvement as the bass guitarist, and he begins to shed light upon new developments with work-in-progress, some of which we learn more about together here below, and some of which we will save for another rainy day.

On this particular day, the weather heated up the barometer to the 90 degree range, provided sunny skies over the courtyard at Kennedy School and a lush background for colourful photography. Our discussions, however, landed us in the Detention Room where we found a warm welcome and a glass of cold beer waiting on tap.

Jett: What does the name "Grigori 3" reference?

Drew: The Grigori were the order of angels sent down to watch over mankind. They were the first group of angels and they wound up fornicating with human women to produce the race of giants. So, it's along the lines of the Christian mythology. And "3" is the number of completion.

Jett: Does this tie in any way with "Paradise Lost" by John Milton?

Drew: No. Personally I haven't read it. I should. I really should. Personally I spent more time with C. S. Lewis. Actually, my favourite writing of his is the "Screw Tape Letters". Have you read that?

Jett: No, I haven't.

Drew: Ah! It's brilliant. It's a about major demon writing to a minor one on how to tempt mankind and pull them away from Christ. It's got all these subtle manipulations you can get if you happen to be on that particular path. So, I recommend that to anybody.

Jett: I enjoy these explorations focused upon Free Will, and debates concerning how "Good" and "Evil" protagonists may or may not influence Free Will.

Drew: I have had a lot of debates with Free Will. Part of what I did in college was study Philosophy, and because I went to Whitworth in Spokane, Washington, a conservative college, some of the more open-minded folks got me into a few debates concerning: "What is Free Will? And where does it come from?" "Do we actually have Free Will?" And then, looking into the Christian context, if you examine determinism and the omniscient power of god, then does that mean that we do not actually have Free Will? If this particular entity knows exactly what's going to happen when, where, how and why, then it makes sense that we are going to do it anyway, so what's the point? That begins to fall into Determinism. At the same time, you must decide whether you believe God is actually influencing happenings, and if not, then we must have Free Will. Sort of like with Quantum Computing. Read some Raven Kurtzweil, "The Age of Spiritual Machines". A great book!

Jett: Did you start out in Washington, or perhaps later move on to Whitworth? How did you end up at Whitworth?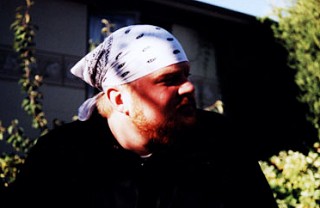 Drew: I was born in Champagne, Illinois. So, now, I've moved back now to my old stomping grounds. My father is the Oregon State Archivist in Salem, so we moved to south Salem when I was in 4th grade. I went to High School in Salem. And then, Salem is so dull that the only thing to do is to move up to Portland. I spent most of my time just hanging out with people here in Portland until I randomly went to school in Spokane, Washington. The bizarre story behind this is that when I was baby-sitting a guy's kids while I was a junior in high school, he said to me rather pointedly that it was about time that I started to think about where I was planning to go for college. And he asked me if I knew of any place I might like to go to college. I couldn't really name a choice at that time. And he tells me, he says, "I went to a place called Gonzagga when I was your age in Spokane, Washington and the food was so bad that we all went to Whitworth and hang out in their food hall." And right when he said "Whitworth," some sort of booming voice got into my head and said, "YOU WILL GO THERE!" So, that was the only place that I applied to, got accepted, early admission, honors, all that kind of stuff, plus I received a music scholarship because I play an upright Bass. So, I went in there and played through the whole program. And, it was great! It was actually the worst four years of my life. But I did get a lot of good experience out of it. Wound up touring through Europe with the Bass and playing with Jazz bands in Jazz clubs. I headed up to Germany, where a friend of mine lived, and sat in with a bunch of rock bands, played at a couple of clubs while I was there, and got a taste of Europe.
Jett: How did Grigori 3 get together?
Drew: That happened in 1999. I am not one of the founding fathers of Grigori 3. I am the "newbie", so to speak. I have been with them for little over a year. Gwendy Bartolini and Ray Wise hooked up. Ray was in some fairly hardcore metal bands. Gwendy was doing some little side-project band. Friends of friends got together and there were shows that they attended, and finally they wound up meeting. And they got to talking about the types of musical interests they might be looking into, and eventually said, "Hey, this is what we want to do!" They did a slowly changing process of evolution, starting out with keyboards, guitars, and a drum machine. In building it, they came up with some really great ideas, and decided that they would need more people. So, they got Brian, who plays keys for us, and that really livened things up. So a couple of drummers later, they brought in Mike Lindsay, who is Great! And then old bassist left the band, and put them in a lurch, and that's where I found them, on the internet of all places. Some cool stuff comes out of that sometimes. The chemistry was just all right where everybody needed it to be. It's weird. The first day I met them, it was like hanging out with old high school buddies.
Jett: Where did you meet them?
Drew: We just hooked up at a Starbucks. It was between everyone's houses. They were keyed on the interview process, which was exactly what I was looking for; a group of serious musicians that were playing music that I really enjoyed. We sat down and grilled each other throughout the entire evening, getting fairly wigged out on far too much caffeine for a human to consume. We've been together, "happily married" ever since.
Jett: When and where did Grigori 3 start playing "out" together?
Drew: The very first time that they played, I wasn't with them, in "Shawnough" Wisconsin at a little club called "Something to Do", which I recommend to everybody goes to when you're in the area. It's right outside of a Native American reservation, the whole comes out to see you play, and everybody there is really cool. It's just a wonderful spot to go and gig. We had such an insanely positive experience, that we try to return every few of months.
Jett: Now, that's Wisconsin, and you're in Wheaton, Illinois, right?
Drew: My particular physical location has nothing to do with where we gig. Wheaton actually may be in the Guinness Book of World Records for having the most churches per capita. It's a very conservative town, which I find, should I say, "annoying"?
Jett: How did you end up there?
Drew: My girlfriend is originally from there. We met in college. She wound up heading back home to Salem, Oregon. I was supposed to come live back in Portland with a couple of musicians. We were putting a band together at that time. But then she wound up getting cancer, so I flew back out there to be her care-taker. They removed a six pound tumor from her stomach. She's fine now. It was a one-time occurance. They were not sure if it was malignant, or not, so they had to cut from the sterum down to past the navel. So, she needed help for months to just sit up. That's how I wound up in Wheaton.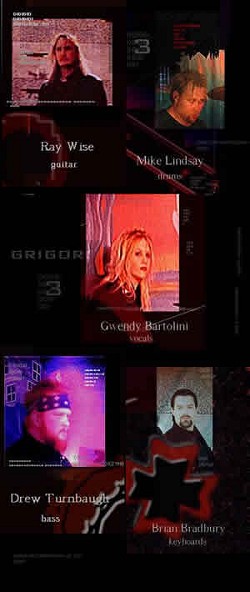 Jett: So, Grigori 3 has four, or is it five members in the current line-up?
Drew: We are back to five. You know how bands may go through personnel switches in the process of hunting for just the "right" group of people? The last bass player just wasn't fitting "the groove", and so in the dissonance and his exodus, the keyboard player went on a hiatus. When I came on, the chemistry came back together, and so they invited the keyboardist to come back and see what he might think of the "new guy". And it started to work and the tension went away, and everyone was happy with the changes.
Jett: On the internet, Grigori 3 has been getting promotion through "GothicRadio.com", and "IPMRadio.com" right?
Drew: "Gothic Radio" is basically Jack Dean Strauss. He's a gentleman who approached Grigori 3 probably a few months before I came on. He put together Dark Future Music, the label that put out "Sex, Death, and Eyeliner". He decided to pick up our song, "Awakening" and put it on a Best of Gothic Radio compilation album, which should be out this September. And they've been putting Grigori 3 into some pretty heavy rotation at www.GothicRadio.com, which is really nice.
Jett: Where are you planning to play out next?
Drew: We recently played a show at Rock House USA in Aurora. For all of our upcoming shows, check out our website.
Grigori 3 plans to stick close to their own roots for now in playing out live, though may someday soon plan to trek out to the Oregon coast, stopping into Portland, and performing with local musicians with whom they are most interested in hearing from NOW.