Pihr
Reborn (Self-Released)
By: Druu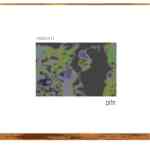 Pihr is a European band consisting of Natasha Blanco-Dominguez (vocals/synth/lyrics), and Paul Broome (guitars/synth/vocals/music). This is a surprisingly deep band, though somewhat subdued, the music leaves the impression of a Dali painting. The depth of the debut cd "Reborn" is remarkable, the moody etheric quality leaves you spellbound.

Track 2, "Broken Promises" is a haunting experience, radiating waves of loneliness and sorrow. The stunning vocals and unsettling music strike deep chords within.

Track 3, "Dark Winter" is no less moving, though more uplifting, the vocal duet weaving a tapestry of love. Track 5 "Coming To Get You" is a more straightforward song combining catchy guitars with a driving rhythm. the vocals and airy background melodies complete this mesmerizing, dance able song. Track 11 "Playfellows" which is to be featured in a forthcoming film by Stefan Smith is a bit more intense. it begins with a disorient ing music box, slowly progressing to a steady driving beat.

I cannot begin to express how incredible the vocals are on this cd.