John Bunzow
Darkness and Light (Sideburn Records)
By: Alex Steininger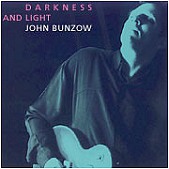 Nashville-by-way-of-Portland singer-songwriter John Bunzow's Darkness and Light is a blues-infused roots-rock record, a well-produced collection of eleven songs rooted in traditions, yet stylistically and lyrically it offers up more than your average roots-rock record. The dusty country grooves alongside the burning rock 'n' roll fever, catapulted by Bunzow's love for blues and R&B, make this a rich, lively album to sink yourself into as Bunzow wins you over song after song.

From free-for-all rock 'n' roll jaunts to tender, laid back numbers, Bunzow covers the gamut, opening up himself to you through the music. Meanwhile, he keeps things cohesive enough that you know its him, but diverse enough to ensure you don't grow tired or weary of the album. The result is a fine tuned, strong piece of roots-rock that will put a smile on your face and give you at least one reason to believe Nashville hasn't killed the soul of roots music. I'll give it an A-.