Cool Nutz
Verbal Porn (Jus Family Records)
By: Anthony E. Davis, Esq.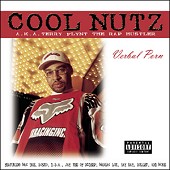 "Verbal Porn" is another step up for Cool Nutz. The production on this record is on the level of most albums released by the Majors. Its multi-layered with smart lyrics, smooth beats, vibrant rhythms and world-class background vocals. Each time I listened to it I discovered a new layer. Whether it's the background guitar on "Ya Heard Me?, or the 80's electronic sound of the synthesizer on "Enuff" or the piano, harp and sitar combo on "It's a shame," these songs come off smooth. When peeled back, what you have is a solid core of raw "hood hip hop" that Cool Nutz has been developing for the past 13 years. Clearly the album is ready for the world. The world needs to listen up. The songs are interspersed between outtakes from some perfectly bad porno. There is a common theme of sexuality and hustling that runs through the entire album. Although a few of the songs on the album that are a bit too "g-funk" for this reviewer, there are a half dozen songs that are so sweet they give you cavities.

Some of the songs take on important issues like "Thug Song" and "Portland Life" -- which provide social commentary on street life (both in Ptown and elsewhere). Others just entertain. Cool Nutz has also done a great job of getting some of the West Coast's best underground rappers to appear. Particularly noteworthy is Jumbo of Lifesavas' appearance on "Freq." For pure listening pleasure check out "Enuff" -- a radio friendly hit that should wake the Major's up to the untapped hip hop talent that resides in the Rose City. Wake up, Cool Nutz is at the door! I'm talking first to the hip hop radio stations in the Northwest, then to the rest of the world. Someone needs to break this album. Be that station. For everyone else: buy the album. Support local hip hop.

This album is getting a lot of press, and Cool Nutz is hoping to re-release the album with a major distributor. Hopefully the word will spread and someone will be interested in major distribution of some real hip hop brewed in the streets of Ptown. Cool Nutz loves this album, but says his upcoming CD "I hate Cool Nutz" is the one that will blow up. I wouldn't mind seeing it happen with this album, but will be anxiously awaiting the next.