Superdrag
Last Call For Vitriol (Arena Rock Recording Co.)
By: Alex Steininger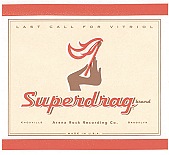 Free from the confines of Elektra Records, Superdrag hit the mark, back on an indie, with Last Call for Vitriol, a powerhouse rock/pop record fueled by buzzing, sweet guitars and soaring melodies.

Without the pressures of major label bullshit, Superdrag are free from the heartache their subsequent stint on Elektra caused them. Letting go of any and all expectations from others, the band gets together and does it for fun, letting the good times roll, as their creative juices flow.

"So Insincere" layers on the guitars, with a steady, sturdy rhythm section adding ample fuel, but the melodic nature of the song is not lost, and the pop abilities of Superdrag are never in question, as this hook-laden rock song satisfies your pop cravings.

"Feeling Like I Do" proves guitar-rock is back in full force, as the band bashes out a pure pop song, the guitar's roar covering the song like ashes after a volcano erupts.

"Way Down Here Without You" finds the band offering up a slower, ballad-esque number, showcasing their songwriting abilities, which are more than playing loud and melodic. "Safe & Warm" gives you another dose of the band's slow, equally hook-laden potency. Both songs are ripe with melody, sweet and sincere, strong enough to warm you up, complete with enough flavor to ensure you don't miss the undeniably infectious rock the band is so good at.

And "Stu" rips right back into the loud, adorable rock that helped make Superdrag one of the most entertaining bands, and a highly energetic recorded act.

"Her Melancholy Tune" and "Drag Me Closer To You" are two more examples of the band's ability to write two very different songs, both on the separate side of the spectrum from each other, the latter a rocker whereas the first is another quiet song. However, they pull it off without a hitch, giving you plenty of both worlds, in fine songwriting form. I'll give this an A.